Social Networking
Posted May 10, 2016
Here's some new work from Toronto-based Bensimon Byrne (the agency that helped get Canada's new Prime Minister into office).
How do you get millennials interested in retirement saving? Not an easy feat. Frankly, no one really wants to hear from the government. so Benisimon Byrne came up with the idea of a generational exchange of wisdom. Retirees who understand the realities of retirement, were paired with YouTube celebrities, who could teach retirees a thing or two about pop culture. As they exchanged their wisdom, the bond between the generations grew.​
A retiree named Livingstone (above), a former cop who then helped his wife run a motel, was paired with Andrew, a YouTube video star. Andrew taught Livingstone how to create a music video, and Livingstone taught Andrew about retirement while making him his famous jerk chicken.
Kathy (below), an 80-year-old retiree and former assistant, was paired with Brent, Toronto's most popular radio personality from Indie 88. Kathy learned how to be a disc jockey while Brent learned there was much more to retirement than he thought.
The campaign is directed by Andrew Norton of Untitled Films.​

See the third spot in the campaign, read more and view full credits.


Posted November 25, 2013
YouShouldTotallyMeet, the Facebook app developed by four Toronto friends that lets you play match-maker by hooking people in your network of friends, is going mobile. To get the app mobile they have launched an Indiegogo campaign to raise $25,000.
They also have a great new partner on their team, Ed Lum, the co-founder of Lavalife. And take a look the contribution perks. A $1000 includes a night out with my friend Anne Ngo, one of the app's founders. Anne is super smart and fun (also crazy good looking). Go ahead, donate a grand.
Get the full scoop here.
Posted September 10, 2013
Colgate-Palmolive and Toronto-based UNION team up to remove food, social embarrassment.
UNION and Colgate-Palmolive have launched a Twitter-based campaign called, "There's Something In Your Tweet," to support the introduction of the new Colgate* Slim SoftTM/MC toothbrush in Canada.
The campaign includes a first-of-its-kind service that puts Twitter to a completely new use: anonymously alerting people to food stuck in their teeth, sparing friends the embarrassment of pointing it out themselves.
Posted August 27, 2013
Blacklist's Tom Brown has started a tumblr called Swipe Right dedicated to every girl he's ever fallen in love with via the online dating app Tinder. Swipe Right features his illustrations of these girls – it's a little like creeping, but it's art, so it's ok.
"'Swipe right' was the entirety of a message a girl sent me on OKCupid", explains Brown. "I was at once disgusted and delighted.The changing scene of dating, and how fast it's happening horrifies me as it drags me down with it. We are essentially shopping for each other, we can look for the perfect height, weight, ethnicity, job, salary bracket, smoker, drug taker, attractiveness and Tinder is the epitome of all of this."
Posted February 6, 2013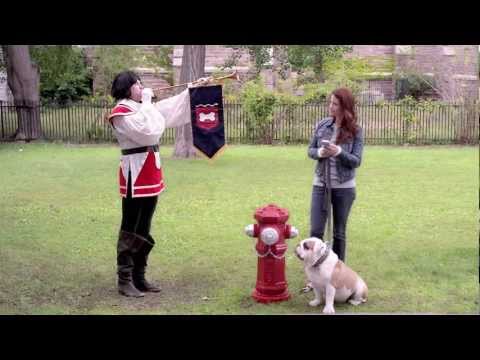 Yep, you read that right. Your furry friend can now check in where he pees. Well, not unless he evolves and grows thumbs. It's your phone, you can check your dog in.
Poolhouse, founded by Geoffrey Roche (founder of Lowe Roche) and his son Alexandre Roche, has launched a new and improved version of Dogbook. Not only is there a new fresh look that's easier to navigate, but now it also includes Foursquare for dogs. You check in at your favorite local haunts so why shouldn't your dog? Dogbook, the popular canine social networking tool used by over 3.5 million members, has unveiled 15 new features that facilitate deeper connections between dogs – and their owners, too.
Posted June 5, 2012

I hear your "Hulk Hogan" and raise you an "Ultimate Warrior".
This has me totally crushing on Sainsbusy's PR. Well played.
Posted January 27, 2012
Humans get Timeline. Dogs get Dogline. Dogbook has rolled out a new look with a Surabu ad buy.
Canine social networking site Dogbook, created by Geoffrey Roche, who is also the founder of Lowe Roche, and his son Alexandre, the all-new design, which rolled out this week, offers dog lovers a 300% larger profile picture, bigger news feed photos, a new My Life Story section, a Dog Years Calculator, a customizable My Favorites section, that are all part of the new Dogbook "Dogline"Features. Also included in the update are a Happy Birthday Video feature, and a faster high-definition photo uploader.