Automotive
Posted May 5, 2016

Subaru Inspires All to Get Out and See a Star-Filled Sky
Many people have never beheld the majesty of a starry sky, one of the most breathtaking sights in nature. An estimated 85% have only ever seen but a few of the brightest stars because of brightly lit urban areas. Subaru Canada intends to change that with a new social and digital campaign for the Subaru Outback that's giving people billions of reasons to get out at night and look up.
Developed in partnership with the Royal Astronomical Society of Canada, #SubaruDarkSky is an initiative that seeks to inspire Canadians' inner stargazer by sparking their desire and curiosity to see what's 'up there' — the billions of bright little lights that illuminate the vast expanse of sky above. #SubaruDarkSky will kick off this spring with a digital video depicting a family that heads out in their Subaru Outback to a remote location outside the city so they can gaze upon the grandeur of starry sky uninhibited by artificial light. The video, which will also appear in cinemas, will serve as launchpad for an ongoing, multichannel effort encouraging Canadians to head out out under starry skies across the country.
Following the launch of the video, #SubaruDarkSky will really kick into high gear on social media. The initiative will roll out across a number of social channels, including Subaru Canada's Facebook and Instagram channels, and will include content that seeks to inspire and enable astronomical curiosity.
#SubaruDarkSky also features a dedicated website at SubaruDarkSky.ca, which presents aspiring stargazers with information about the initiative, a brief history of constellations, the locations of Dark-Sky Preserves, stargazing tips and info on viewing meteor showers. The initiative will also be promoted by digital display ads, print ads in outdoor and lifestyle magazines, and a closed captioning sponsorship on television.
The campaign was created by Red Urban and the #SubaruDarkSky video was directed by John Mastromonaco of Untitled Films.
Posted June 17, 2015
Volvo's new XC60 was released with 60 new car feature innovations. The target audience for the vehicle were young professionals and families who were very active online, particularly on YouTube.
Instead of one standard pre-roll ad, Grey Canada set out to hyperlink all the features to "6 billion hours"; the total amount of YouTube content that is typically viewed over the course of a month. That way, the pre-roll ad you were forced to watch would feel more customized to the YouTube video you were waiting to watch…and catch your attention.
They hyperlinked specific YouTube themes and subject matter to specific car features. Team members from Creative, Media and Analytics all worked together 24hrs/day, creating hundreds of XC60 pre-roll videos that delivered trending & topical messages in real time. In addition to 'standard' YouTube themes and tags.
Posted May 27, 2015

Subaru Canada, Inc. (SCI) is pleased to name Red Urban as its advertising agency of record. After an extensive six-month creative account review and search, a decision was reached: Red Urban won the account and was selected from a competition that included 14 of the very best agencies from across Canada. Red Urban will handle national brand advertising across all channels and dealer marketing content development for Ontario as well as the Western and Atlantic regions.

"After an intensive RFP (request for proposal) process, we selected Red Urban because it is a unique creative agency with a depth of current and relevant category experience unmatched in the industry," said Ted Lalka, vice president of marketing and product planning. "Our decision to select Red Urban was based on their fit with our Subaru brand as well as the work they've already delivered for us nationally on the brand and on the retail sales level."

Red Urban first began working with Subaru Canada in January 2015, and has developed multiple original, national campaigns to date. A spot from the agency's recent campaign for the BRZ is posted above.

Read more.
Posted April 30, 2015

The 1% live in chateaus, they date supermodels and they collect supercars. It might be next to impossible to live like the 1%, but it's easy to drive like them, thanks to the Subaru BRZ. It's the attainable supercar.
Targeting confident, independent male car enthusiasts between the ages of 30 and 35, Subaru has released two 20-second web films, created by Toronto-based advertising agency Red Urban, that show how easily people can mistake the BRZ for a supercool supercar, and its drivers for elite members of the 1%. What becomes clear is that the BRZ is a seriously affordable supercar for serious drivers and, at $27,395, its pure fun-to-drive quotient rivals that of cars ten times its price.
The web films are directed by Mark Gilbert of Toronto-based Untitled Films and were edited by Marc Langley at Rooster Post.
Posted March 23, 2015

Subaru partnered with Toronto-based advertising agency Red Urban to create a series of TV ads, which show why the Impreza is made the way it is and just how much it can really handle. From birthdays to bad days, from potholes to A-holes, from people on their phones to epic storms, the commercials feature the Impreza facing a variety of different, sometimes harrowing situations.
There is one :30 and two :15-second versions of the TV spot that are the final cogs in a multi-faceted campaign that includes digital display, print and radio. All the elements in play speak in an emotionally compelling and relevant way to a younger demographic consisting of men and women between the ages of 25 and 35. Rather than listing technical specifications, the campaign uses a variety of media to tell the Impreza story and demonstrate how its features could fit into their lives.
The campaign is directed by Untitled Films' John Mastromonaco and edited by Marc Langley at Rooster Post.
Posted November 3, 2014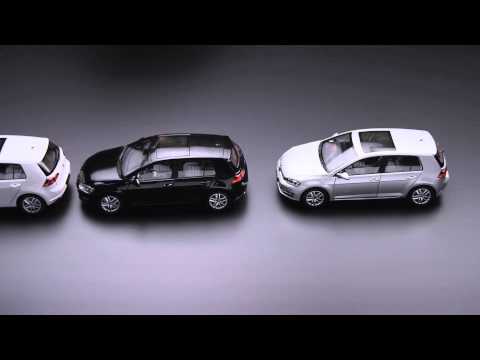 Volkswagen launches an un-average website for an un-average car

In a world where many car websites look the same, Volkswagen has dared to be different. To promote its brand new 2015 Volkswagen Golf the brand has put a cinematic twist on the conventional car website, creating an online portal that, like the vehicle itself, is anything but average.

Located at contents.vw.ca/golf-unaverage, the site, created by Toronto-based advertising agency Red Urban, gives all the different features of the revamped Golf — like its new panoramic sunroof and Fender Audio System — top billing.. Each one is featured in its own silver screen-style movie trailer that's accompanied by spectacular imagery and the best voiceover talent known to man. It makes for an immersive blockbuster experience, one that's unique in the automotive industry.

The "Post-Collision Braking" spot from the site is posted above.

Read more.
Posted March 25, 2014
Chevy is revving up for the April 4th release of Captain America: The Winter Soldier. This spot, Captain America: All in a Day's Work, is part of a multi platform-campaign build around the film. This spot features kids imaging themselves as the characters in the sequel, before one climbs into a Chevy Traverse Crossover SUV when his mom picks him up from school.
The spot was directed by Anthony and Joe Russo (RSA), who also helmed "The Winter Soldier" and it's edited by Christjan Jordan, Arcade Edit. Agency is Commonwealth, Detroit.
More info on the campaign is on Variety.
Posted March 17, 2014
Porsche Cars Canada, Ltd. announced today that following an extensive five-month review involving more than 20 agencies, Red Urban, based in Toronto, has been selected as its new Agency of Record.
Pictured above: Laurance Yap, Director of Marketing, Porsche Cars Canada (left) and Steve Carli, President, Red Urban President (right).
Red Urban, which will officially start in June of this year, will be responsible for adaptation of global campaigns as well as Canadian-specific creative for new vehicles and aftersales initiatives across all media. French market communications will be handled by CART1ER, based in Montreal.
Posted February 12, 2014

Once More, The Story of VIN 903847 is the story of a 1955 Volkswagen Beetle that went around the world three times, and is still on the road 59 years later.
Volkswagen Canada, Red Urban and Untitled Films director Hubert Davis have brought the story of this car to live. Initially through a documentary film, that began airing on Bravo and Discovery earlier this year. It's a story for anyone who's ever loved a car. The film was edited by Paul Jutras at Rooster Post, and features a beautiful soundtrack by Imprint Music.
The newly launched interactive site OnceMore.ca uses the film as a backbone to an immersive exploration of the Beetle's 58 year (and counting) history. The unique interface of the site combines the film with a map of the Beetle's day-to-day travels, enabling viewers to explore Paul Loofs' (the man who took it around the world) journal entries, photographs, and other artifacts as they correlate to the story. Alternatively, the site can be explored organically, using the map to access specific locations on the Beetle's journey. Together, the documentary and the website provide a unique interactive experience, allowing viewers to fully immerse themselves in the story of 'Once More'.
The full documentary is posted above, but you should check out the extras on OnceMore.ca.
Posted January 28, 2014
Every time a Volkswagen hits 100,000 miles an angel gets it wings.
I like me a little Frank Capra reference. Here's Volkswagen's Super Bowl spot. It's lovely, funny and charming. Good work created by Argonaut, San Francisco.
keep looking »