Automotive
Posted April 30, 2015

The 1% live in chateaus, they date supermodels and they collect supercars. It might be next to impossible to live like the 1%, but it's easy to drive like them, thanks to the Subaru BRZ. It's the attainable supercar.
Targeting confident, independent male car enthusiasts between the ages of 30 and 35, Subaru has released two 20-second web films, created by Toronto-based advertising agency Red Urban, that show how easily people can mistake the BRZ for a supercool supercar, and its drivers for elite members of the 1%. What becomes clear is that the BRZ is a seriously affordable supercar for serious drivers and, at $27,395, its pure fun-to-drive quotient rivals that of cars ten times its price.
The web films are directed by Mark Gilbert of Toronto-based Untitled Films and were edited by Marc Langley at Rooster Post.
Posted March 23, 2015

Subaru partnered with Toronto-based advertising agency Red Urban to create a series of TV ads, which show why the Impreza is made the way it is and just how much it can really handle. From birthdays to bad days, from potholes to A-holes, from people on their phones to epic storms, the commercials feature the Impreza facing a variety of different, sometimes harrowing situations.
There is one :30 and two :15-second versions of the TV spot that are the final cogs in a multi-faceted campaign that includes digital display, print and radio. All the elements in play speak in an emotionally compelling and relevant way to a younger demographic consisting of men and women between the ages of 25 and 35. Rather than listing technical specifications, the campaign uses a variety of media to tell the Impreza story and demonstrate how its features could fit into their lives.
The campaign is directed by Untitled Films' John Mastromonaco and edited by Marc Langley at Rooster Post.
Posted November 3, 2014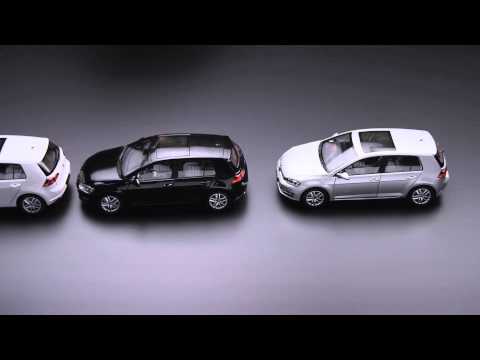 Volkswagen launches an un-average website for an un-average car

In a world where many car websites look the same, Volkswagen has dared to be different. To promote its brand new 2015 Volkswagen Golf the brand has put a cinematic twist on the conventional car website, creating an online portal that, like the vehicle itself, is anything but average.

Located at contents.vw.ca/golf-unaverage, the site, created by Toronto-based advertising agency Red Urban, gives all the different features of the revamped Golf — like its new panoramic sunroof and Fender Audio System — top billing.. Each one is featured in its own silver screen-style movie trailer that's accompanied by spectacular imagery and the best voiceover talent known to man. It makes for an immersive blockbuster experience, one that's unique in the automotive industry.

The "Post-Collision Braking" spot from the site is posted above.

Read more.
Posted March 25, 2014
Chevy is revving up for the April 4th release of Captain America: The Winter Soldier. This spot, Captain America: All in a Day's Work, is part of a multi platform-campaign build around the film. This spot features kids imaging themselves as the characters in the sequel, before one climbs into a Chevy Traverse Crossover SUV when his mom picks him up from school.
The spot was directed by Anthony and Joe Russo (RSA), who also helmed "The Winter Soldier" and it's edited by Christjan Jordan, Arcade Edit. Agency is Commonwealth, Detroit.
More info on the campaign is on Variety.
Posted March 17, 2014
Porsche Cars Canada, Ltd. announced today that following an extensive five-month review involving more than 20 agencies, Red Urban, based in Toronto, has been selected as its new Agency of Record.
Pictured above: Laurance Yap, Director of Marketing, Porsche Cars Canada (left) and Steve Carli, President, Red Urban President (right).
Red Urban, which will officially start in June of this year, will be responsible for adaptation of global campaigns as well as Canadian-specific creative for new vehicles and aftersales initiatives across all media. French market communications will be handled by CART1ER, based in Montreal.
Posted February 12, 2014

Once More, The Story of VIN 903847 is the story of a 1955 Volkswagen Beetle that went around the world three times, and is still on the road 59 years later.
Volkswagen Canada, Red Urban and Untitled Films director Hubert Davis have brought the story of this car to live. Initially through a documentary film, that began airing on Bravo and Discovery earlier this year. It's a story for anyone who's ever loved a car. The film was edited by Paul Jutras at Rooster Post, and features a beautiful soundtrack by Imprint Music.
The newly launched interactive site OnceMore.ca uses the film as a backbone to an immersive exploration of the Beetle's 58 year (and counting) history. The unique interface of the site combines the film with a map of the Beetle's day-to-day travels, enabling viewers to explore Paul Loofs' (the man who took it around the world) journal entries, photographs, and other artifacts as they correlate to the story. Alternatively, the site can be explored organically, using the map to access specific locations on the Beetle's journey. Together, the documentary and the website provide a unique interactive experience, allowing viewers to fully immerse themselves in the story of 'Once More'.
The full documentary is posted above, but you should check out the extras on OnceMore.ca.
Posted January 28, 2014
Every time a Volkswagen hits 100,000 miles an angel gets it wings.
I like me a little Frank Capra reference. Here's Volkswagen's Super Bowl spot. It's lovely, funny and charming. Good work created by Argonaut, San Francisco.
Posted January 27, 2014
Let the Super Bowl ad madness begin!
Innocean Worldwide's two Super Bowl spots for Hyundai were released on YouTube today.
"Nice" stars Johnny Galecki and was directed by O Positive's Jim Jenkins and "Dad's Sixth Sense" features a father with some impeccable timing – directed Frank Todaro, Moxie Pictures.
I love the laugh in Jeff Bridges' voice at the end of "Nice" – nice touch guys.
My friends at Arcade Edit, and editors Geoff Hounsell, Paul Martinez and Greg Scruton, worked on both these spots.
Posted January 14, 2014
I like me some rogue evil snowmen. Nice creepy work, and very Canadian (snowmen do come to life up here), for Nissan Canada via TBWA Toronto directed by Sons & Daughters' Mark Zibert.
Posted January 6, 2014
Everyone has loved a car once, no? I loved VW Cabriolet that I named Joey. He sacrificed himself to save my life on an icy road. I'll never name a car again.
Volkswagen Canada has teamed up with Red Urban and Untitled Films director, and Academy award nominee, Hubert Davis to tell the story of a very special 1955 Volkswagen Beetle.
Once More. The Story of VIN 903847 premiered last night on both Bravo and Discovery. And it's a great story about a man and a car that took him around the world 3 times. The car has been exhibited the World Trade Fair and its story was featured in an ad that was awarded at the ADC.
The trailer is posted above and if you missed it last night, you can watch it again on the days and times below (eastern time). I watched it. It's great. I may have cried. Rooster Post edited the film and music is by Imprint.
Bravo:
Friday January 10th at 4:30AM and 11:30PM
Saturday January 11th at 12:30PM
Sunday January 19th at 12PM
Sunday February 9th at 6:30PM
Saturday February 22nd at 1PM
Discovery:
Saturday January 25th at 6:30PM
Sunday February 16th at 8:30AM
Sunday February 23rd at 6:30AM
keep looking »