Automotive
Posted September 4, 2013
Red Urban sees their global role – and a few bellies – expand with new work for Volkswagen Germany.
How does one introduce a brand new car with powerful acceleration? Well, by showing the hilarious physical consequences of said acceleration, of course. Which is exactly what Toronto advertising agency Red Urban has done in their new Golf GTD spots, the latest example of their increasing role producing global creative work for Volkswagen.
As part of an integrated campaign overseen by DDB Team Blue, the five 15-second spots were filmed on location in Toronto over the course of two days. The spots were directed by Untitled Films'  Curtis Wehrfritz and edited by Rooster Post's Jesse Unruh and Chris Parkins.
Posted August 26, 2013
As part of MINI's "NOT NORMAL" campaign and MINI's undisputed go-kart handling, MINI Canada and their AOR Anomaly took directly to the streets and created the MINI Roller Coaster. Through vigorous planning and with the help of Toronto-based production company Asymetric, three MINI Cooper S models were completely retrofitted to create a MINI Roller Coaster.
Posted January 30, 2013

Yep, Willem Dafoe is the devil, but you kinda already knew that, right?
It's only one of Mercedes' Super Bowl spots, I think the Kate Upton one is creatively void (ya, I said it), and I'm not just saying that because I'm a girl. I'm all for sex selling, I just want more of a creative concept to go with my sex. I digress. This spot, staring Dafoe, is amazing. And I'm guessing amazingly expensive, unlike the 30K price tag on the car.
It's via Merkley + Partners and director Dante Ariola. Scooped from AdWeek.
Posted January 24, 2013
This spot for the Volkswagen Jetta started airing earlier this month in Canada. In it they suspend two Jettas, about 3,000 lbs each, inside a historic stable at Toronto's Casa Loma.
The spot is the creation of  Red Urban, and directed by Untitled Films' Jean-Michel Ravon. If you've been wondering how they did it, there's now a making-of video, posted below.
For more info, and full credits, read the press release.
Posted January 16, 2013

Audi Canada has reinvents the test-drive with world's first iPad controlled slot car race
With the release of a documentary short film today, Zulu Alpha Kilo and Audi Canada have put the final touches on the Audi quattro® Experience. This one-of-a-kind interactive installation put participants in the driver's seat of a custom-made 1:32 scale Audi A4 quattro® slot car for the chance to test their on-track skills.
Using the world's first iPad enabled slot car controller, visitors to the installation were able to take their A4 for a wild test-drive around hairpin turns, down long highway straightaways and through icy mountain passes – terrain that would get the better of lesser vehicles.
Here's a video outlining the project.



Read more and view the short documentary "Painting Coconuts".
Posted September 6, 2012
The latest from Agence H Paris for Citroën is this 80s Live Aid inspired robots chorus created by Vancouver-based The Embassy.
Over the years Citroën has utilized the robot in many of its campaigns, and this new spot, "Robots Chorus", is a celebration of the Citroën automobile through song and robot.
For the spot, The Embassy handled all production and post-production from start to finish. Like the iconic "We Are the World", this spot is deliberately shot with minimal production design in order to make the concept feel more believable.
"The tendency with VFX driven work is to make it as glossy and polished as possible, which often makes it look more fake." Said Winston Helgason, President, The Embassy. "This is often reflected in the colour grade as well. Overall, we deliberately embraced the imperfections, which in the end added an extra layer of authenticity."
Posted July 5, 2012
DDB Canada's Toronto office has launched a campaign for the new Subaru BRZ.
Centred around the premise that it's a scorching hot ride, DDB placed the BRZ at the centre of the execution and scorched, burned and melted its surroundings.
In the launch video, "Scorched", the BRZ heats-up a parking garage. Slick and stylish, the film, directed by Radke's Common Good, introduces the hotly anticipated BRZ as it heats-up a parking garage. In addition to directing "Scorched", Common Good also completed the VFX on the spot making puddles boil, water sizzle, paint bubble and digitally lighting stuff on fire.
Posted July 4, 2012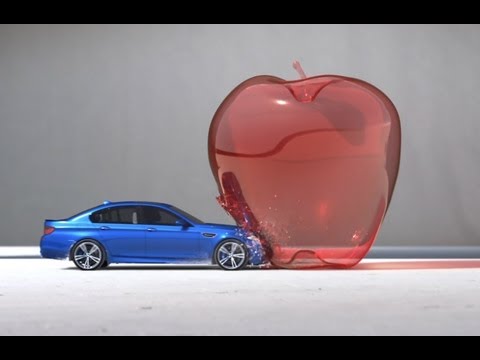 I love my German cars. My current, and last three, have all been German. Oh, I also drive stick (I'm so cool).
I've been meaning to post this beautiful film for the BMW M5 for a week now. A little poke from HestyReps reminded me to do so today (they sent out a newsletter today – they rep the studio that produced the spot).
The spot, via Toronto-based Cundari, who has been kicking ass in the 2012 ad awards season (kudos), is directed by Mark Glaser of LA-based Big Block (they are great with cars).
Nicely done.
Posted March 21, 2012

For their 2012 March Madness Campaign, Toyota does a series of recruiting-style spots via Saatchi & Saatchi, Los Angeles. The three spots are directed by Furlined's Brian Aldrich and edited by Greg Scruton, Arcade Edit.