Canada
Posted September 8, 2016

After conducting an agency search, INARIA, a Canadian designer and manufacturer of soccer equipment and a full-line of team apparel, has chosen strategy and creative shop Giants & Gentlemen (G&G) as their new agency partner.
G&G is tasked with developing strategic brand positioning that will lead to a creative platform for the brand."INARIA is the type of assignment we love," says G&G Co-founder and Chief Strategy Officer, Gino Cantalini. "It's a brand ready for greatness. It's an authentic story and a superior quality product. We're looking forward to helping INARIA take its rightful place in football history."
INARIA (which means "inside the 18 yard box" in Italian) first started in Toronto in 1999 and as part of its North American expansion has formed extensive partnerships with professional players and clubs, including Toronto F.C.'s Sebastian Giovinco, who won the 2015 Landon Donovan MLS MVP Award, as well as several other elite amateur programs. INARIA incorporates leading technologies into its apparel to help maximize the athlete's performance and comfort, including 37.5® technology. Fabrics designed with 37.5® technology dry up to five times faster than similar materials.
Posted August 22, 2016

This new Toronto agency is investing in creativity. Literally.
send+receive puts 10% of its revenue toward creative projects.
When it comes to being champions of creativity, lots of agencies talk a good game. But freshly minted Toronto shop send+receive, comprised of creative partners JP Gravina, Simon Craig and partner/strategist Andrew Carty, puts talk into action.
The idea for the shop was to offer a modern model designed to meet the needs of today's client, in an industry that they realized was increasingly about project work.
"It was clear to us that we had to change our output, and to do so we really had to change the way we operate–the way we work, the way we bill, our whole structure, really," says Carty. "Part of the solution became a full-service, project-based agency with working partners and billing based on output, instead of retainer hours."
The new structure lead to even bigger thinking about how to support the creative community in an ongoing, mutually beneficial way. They decided to put 10% of the agency's earnings toward supporting various creative projects; from Kickstarter initiatives, to tech start ups, to short films.
Posted August 10, 2016
Toronto-based music and sound design company BoomBox has signed respected music director, producer and composer mr/tommy zee to its roster for Canadian representation.
Based in Amsterdam, but now available to the Canadian market through BoomBox, mr/tommy zee is the founder of music collective HLGRM and previously worked as a creative director for MassiveMusic. His credits include award-winning work for global brands such as Nike, Audi, Google, BMW, Heineken, as well as the recent national Team Canada spot, "Ice In Our Veins," posted above.
The deal gives BoomBox's clients exclusive access to mr/tommy zee's roster of world class singers, songwriters and composers that he has built up in a decade of delivering remarkable music on two different continents. It marks the first time the former Torontonian is available for commercial work on his home turf in six years.
mr/tommy zee is the latest high-profile signing for BoomBox. Earlier this year, Cannes Lion-winning music producer and voice director Stephanie Pigott joined the roster from Pirate.
Posted July 25, 2016
Toronto-based creative company The Garden Continues to grow, with 3 new hires.
Mike Kovacs joins as Project Cultivator, a unique role that combines client service with project management and production. Kovacs brings with him more than 6 years of account service experience and was most recently at JP/TBWA, where he helped lead the Nissan Infinity and Petro Canada accounts.
Sarah Philips has joined as the company's newest Strategist. Philips has been freelancing with The Garden since last June. Prior to that she has held roles as a Journalism Professor at Humber College and account service positions at McLaren McCann and Zulu Alpha Kilo, where she helped manage the Colgate-Palmolive, WIND Mobile, Indie88 and Jack Astor's accounts.
Adriana Mahalean joins as Designer. Previously at Goods and Services, Adriana has applied her beautiful aesthetic to a number of brands, including LCBO, Fairmont Hotels & Resorts, Herman Miller and Sun Life Financial.
Posted July 19, 2016
GREY Canada adds strategic muscle to its award-winning creative offering as Ian Wentworth joins as Vice President Planning and Innovation.
Westworth will lead strategic planning for GREY's Toronto and Vancouver offices, all of its clients, its research practice, data team and core planning group. Westworth, who joins GREY from JWT, brings more than 18 years of experience to the role having worked at world-class advertising agencies including BBDO, Grip Limited, Leo Burnett and BBH New York.
Westworth joins a strong GREY Canada executive team that was recently renewed by several promotions to prepare the agency for sustained growth and creative excellence. Darlene Remlinger, was appointed President of GREY Toronto, and Joel Arbez and James Ansley are GREY Canada's newest Co-Executive Creative Directors. The four senior leads join Leah Power, Chief Operating Officer and Paul Curtin, VP Business Development in rounding out the agency's Toronto-based executive team.
Posted July 5, 2016
Vapor Music is pleased to announce that it is acquiring RMW Music. Moving forward under the name Vapor RMW, the addition of RMW allows Vapor to reinvent itself and expand in the post audio space. With the extra bandwidth, not only will Vapor be well-positioned to propel the significant growth it's experienced of late, but also to galvanize its client experience.
Having reached a point in its evolution where it needed to increase the amount of workflow it could handle, the acquisition of RMW was a perfect fit for Vapor and will help the studio to achieve its strategic growth goals quickly and efficiently. The addition of RMW's facilities will allow Vapor to better cater to simultaneous sessions across the board, a need that increasingly began to present itself as the studio continued on its upward growth trajectory. The acquisition also reinforces Vapor's creative culture, including the gaming and record label side of its business. The extra studio space will help with Vapor's Fifth Kid Records label in particular, improving its capacity for providing a creative outlet and home for its recording artists.
A reel of notable and award-winning work from Vapor Music and RMW Music is posted above.
Posted June 14, 2016
Grey Canada has been doing great on-going work for Ovarian Cancer Canada with its "Ladyballs" campaign. By the time ovarian cancer is detected, it's often too late to save a woman's life. With no screening test, vague symptoms and low awareness and understanding, it's often called "the silent killer." Ovaries are hard to talk about and aren't top of mind for women from a self-awareness standpoint because, unlike men, women can't see, touch or feel their gonads.
This campaign gives women a reminder — they have balls too. Ladyballs.
The "Ladyballs" campaign launched with film – in cinema, TV (see spot below), digital pre-roll and social video. Print and radio executions featuring survivors and their "Ladyballs" stories of courage soon followed.
Next, a "Show us your Ladyballs" user-generated content activation was deployed in social media, as well as digital and search advertising. Community outreach and Digital PR efforts brought "Ladyballs" into online conversation during high-profile events like the Oscars.
Pictured below is a group of women, one with "Ladyballs" tattooed on her arm, with Canadian Prime Minister, Justin Trudeau. They took the Ladyballs charge to Parliament Hill to discuss active change for the outcome of women with ovarian cancer, as there's been a lack of federal health engagement on the disease, and it was time their voices were heard.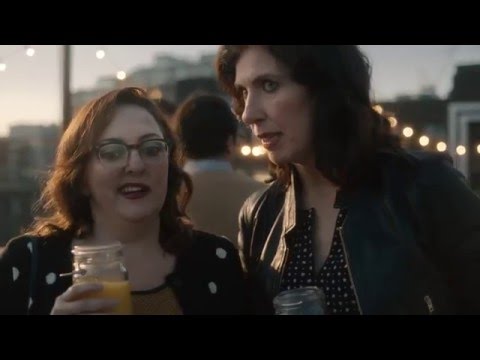 Posted June 9, 2016

Here's some new work from Grand Effie winners Grey Canada featuring leading environmentalist, David Suzuki, and a group of awesome kids.
The Ontario Ministry of Environment and Climate Change and GREY Canada have partnered to launch an eye-opening, thought-provoking new campaign in which real Ontario children were tasked with solving the issues of climate change on their own. The campaign, "Let's not leave it for our kids to figure out", aims to open parents eyes to the harsh fact that inaction on climate change today in effect simply hands the problem down to their children to solve tomorrow.
All of the campaign components – including film for cinema & TV, out of home, social content and child-created user-generated content – was captured and created during a one-day event and workshop at the Ontario Science Centre, in which hundreds of real Ontario students between the ages of 6 and 11 met with leading Environmentalist David Suzuki. Once there, they were literally tasked with solving climate change on their own, then asked to present these climate change solutions in the form of drawings and written statements—all in an effort to motivate adults and parents to do more, and to inspire them to get involved with the Ontario Government's 5-Year Climate Change Action Plan.
Posted April 13, 2016
Toronto-based creative company The Garden is pleased to announce that Omar Morson has joined the team as Design Director.
With over 16 years in the industry, and having worked at some of the top design firms and creative agencies in the country, Morson brings a strong, diverse and awarded design pedigree to The Garden. His design work has guided many notable brands, including Mini, Budweiser, Holt Renfrew, The Rotman School of Business, LCBO and Sick Kids.
Morson arrives at The Garden from Zulu Alpha Kilo where he served as Design Director. Prior to that he was Senior Designer at Anomaly and Design Director at Oxygen Design Agency.
Posted April 12, 2016

The Growth Continues at Rain43
Jane Murray, Duncan Porter, and Dave Stubbs Join the Team
Toronto-based advertising agency Rain43 has hired three new Vice President, Executive Creative Directors —Jane Murray, Duncan Porter, and Dave Stubbs. Pictured left to right: Dave Stubbs, Jane Murray, Duncan Porter.
The three join Rain43 following twelve months of record expansion for the Corktown-based shop, including expanding its client roster significantly. The ECD's were selected with assistance from cofounder and current Chief Creative Officer John Farquhar, following his decision to move on from Rain43 this coming fall.
Murray, Porter, and Stubbs round out 18 months of impressive staffing additions to the agency. Laura Davis-Saville, VP, Strategy, assumed the strategic reigns in January 2015, quickly building a fully integrated strategy department. Shawna Dressler, Director of HR and Operations, and Emanuel Toste, Director of Digital Strategy and Production then joined in July 2015. Kate Spencer, Director of Production, Maria Baggetta, Studio Manager, and Alexis Saffran, Senior Account Director joined this year – just a few in nearly a dozen new hires.
keep looking »