Canada
Posted July 19, 2016
GREY Canada adds strategic muscle to its award-winning creative offering as Ian Wentworth joins as Vice President Planning and Innovation.
Westworth will lead strategic planning for GREY's Toronto and Vancouver offices, all of its clients, its research practice, data team and core planning group. Westworth, who joins GREY from JWT, brings more than 18 years of experience to the role having worked at world-class advertising agencies including BBDO, Grip Limited, Leo Burnett and BBH New York.
Westworth joins a strong GREY Canada executive team that was recently renewed by several promotions to prepare the agency for sustained growth and creative excellence. Darlene Remlinger, was appointed President of GREY Toronto, and Joel Arbez and James Ansley are GREY Canada's newest Co-Executive Creative Directors. The four senior leads join Leah Power, Chief Operating Officer and Paul Curtin, VP Business Development in rounding out the agency's Toronto-based executive team.
Posted July 5, 2016
Vapor Music is pleased to announce that it is acquiring RMW Music. Moving forward under the name Vapor RMW, the addition of RMW allows Vapor to reinvent itself and expand in the post audio space. With the extra bandwidth, not only will Vapor be well-positioned to propel the significant growth it's experienced of late, but also to galvanize its client experience.
Having reached a point in its evolution where it needed to increase the amount of workflow it could handle, the acquisition of RMW was a perfect fit for Vapor and will help the studio to achieve its strategic growth goals quickly and efficiently. The addition of RMW's facilities will allow Vapor to better cater to simultaneous sessions across the board, a need that increasingly began to present itself as the studio continued on its upward growth trajectory. The acquisition also reinforces Vapor's creative culture, including the gaming and record label side of its business. The extra studio space will help with Vapor's Fifth Kid Records label in particular, improving its capacity for providing a creative outlet and home for its recording artists.
A reel of notable and award-winning work from Vapor Music and RMW Music is posted above.
Posted June 14, 2016
Grey Canada has been doing great on-going work for Ovarian Cancer Canada with its "Ladyballs" campaign. By the time ovarian cancer is detected, it's often too late to save a woman's life. With no screening test, vague symptoms and low awareness and understanding, it's often called "the silent killer." Ovaries are hard to talk about and aren't top of mind for women from a self-awareness standpoint because, unlike men, women can't see, touch or feel their gonads.
This campaign gives women a reminder — they have balls too. Ladyballs.
The "Ladyballs" campaign launched with film – in cinema, TV (see spot below), digital pre-roll and social video. Print and radio executions featuring survivors and their "Ladyballs" stories of courage soon followed.
Next, a "Show us your Ladyballs" user-generated content activation was deployed in social media, as well as digital and search advertising. Community outreach and Digital PR efforts brought "Ladyballs" into online conversation during high-profile events like the Oscars.
Pictured below is a group of women, one with "Ladyballs" tattooed on her arm, with Canadian Prime Minister, Justin Trudeau. They took the Ladyballs charge to Parliament Hill to discuss active change for the outcome of women with ovarian cancer, as there's been a lack of federal health engagement on the disease, and it was time their voices were heard.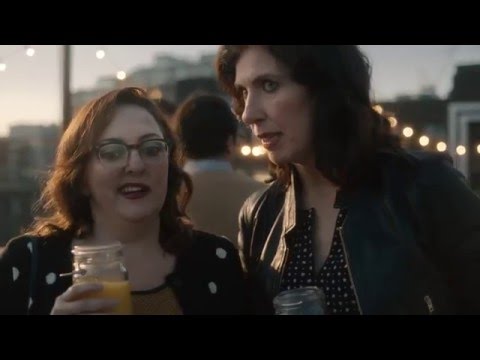 Posted June 9, 2016

Here's some new work from Grand Effie winners Grey Canada featuring leading environmentalist, David Suzuki, and a group of awesome kids.
The Ontario Ministry of Environment and Climate Change and GREY Canada have partnered to launch an eye-opening, thought-provoking new campaign in which real Ontario children were tasked with solving the issues of climate change on their own. The campaign, "Let's not leave it for our kids to figure out", aims to open parents eyes to the harsh fact that inaction on climate change today in effect simply hands the problem down to their children to solve tomorrow.
All of the campaign components – including film for cinema & TV, out of home, social content and child-created user-generated content – was captured and created during a one-day event and workshop at the Ontario Science Centre, in which hundreds of real Ontario students between the ages of 6 and 11 met with leading Environmentalist David Suzuki. Once there, they were literally tasked with solving climate change on their own, then asked to present these climate change solutions in the form of drawings and written statements—all in an effort to motivate adults and parents to do more, and to inspire them to get involved with the Ontario Government's 5-Year Climate Change Action Plan.
Posted April 13, 2016
Toronto-based creative company The Garden is pleased to announce that Omar Morson has joined the team as Design Director.
With over 16 years in the industry, and having worked at some of the top design firms and creative agencies in the country, Morson brings a strong, diverse and awarded design pedigree to The Garden. His design work has guided many notable brands, including Mini, Budweiser, Holt Renfrew, The Rotman School of Business, LCBO and Sick Kids.
Morson arrives at The Garden from Zulu Alpha Kilo where he served as Design Director. Prior to that he was Senior Designer at Anomaly and Design Director at Oxygen Design Agency.
Posted April 12, 2016

The Growth Continues at Rain43
Jane Murray, Duncan Porter, and Dave Stubbs Join the Team
Toronto-based advertising agency Rain43 has hired three new Vice President, Executive Creative Directors —Jane Murray, Duncan Porter, and Dave Stubbs. Pictured left to right: Dave Stubbs, Jane Murray, Duncan Porter.
The three join Rain43 following twelve months of record expansion for the Corktown-based shop, including expanding its client roster significantly. The ECD's were selected with assistance from cofounder and current Chief Creative Officer John Farquhar, following his decision to move on from Rain43 this coming fall.
Murray, Porter, and Stubbs round out 18 months of impressive staffing additions to the agency. Laura Davis-Saville, VP, Strategy, assumed the strategic reigns in January 2015, quickly building a fully integrated strategy department. Shawna Dressler, Director of HR and Operations, and Emanuel Toste, Director of Digital Strategy and Production then joined in July 2015. Kate Spencer, Director of Production, Maria Baggetta, Studio Manager, and Alexis Saffran, Senior Account Director joined this year – just a few in nearly a dozen new hires.
Posted March 29, 2016


Toronto-based creative agency Blackjet has added something new, interesting and never tried before to its employee benefits package in order to better attract the best talent in today's competitive marketplace – free pot.
Marijuana, cannabis, weed, ganja, hemp, dope, green, grass Mary Jane, call it what you will, millennials want it and Blackjet's got it for free. The agency operates in a creative industry, after all. Knowing that laws are changing in the United States, and that Prime Minister Justin Trudeau is pushing to change the laws here in Canada, Blackjet figured it would get ahead of the curve with its new, revolutionary benefits package. As soon as it's not a criminal offence in Ontario, the agency will start dispensing cannabis right next to its beer fridge. Blackout says it just gives you a different creative perspective. The agency will also be installing a new snacks dispenser.
Blackjet's employee benefits package also includes a number of other competitive incentives, including: a casual work atmosphere and dress code, pet-friendly office, summer Friday half days, summer extra-day long weekends, free coffee, free beer a ping pong table, office music sharing, a social space and common area, wall mounted iPads,and amazing office events and excursions (ski/snowboard day, axe throwing, curling, guac-off / chili competitions, Oscar & sports pools).
Posted January 18, 2016

The Garden is pleased to announce that Dic Dickerson has joined the team as Managing Director.
Bringing over a decade of integrated leadership experience working on both agency and client-side, Dickerson provides Toronto-based creative company The Garden with a great range of category experience across a number of segments. His most notable work includes re-launching the Corona brand in Canada and overseeing multiple Canadian product launches for both Nissan and Audi. Most recently, Dic led SVEDKA towards their goal of becoming the number one imported vodka brand in the US, while simultaneously being recognized as the number two spirits brand on social media globally.
The addition of Dickerson is part of a period of significant growth for The Garden, which, after less than a year in business, has added several new clients, including IZ Fashion, WIRELESSWAVE, Tbooth Wireless, Standard Innovation, The United Way and the Detour Coffee Company. Dickerson has been busy since joining the agency, contributing to acquiring their newest client win, Shiny Apple Cider, as well as helping to lead a project for the Scene loyalty program.
Posted January 12, 2016

Sam McLaren has joined Toronto-based Fort York VFX as Executive Producer.
McLaren is a creative executive producer with an eye for telling multi-faceted stories. She also knows the Canadian TV commercial industry inside and out. Prior to her move into the world of VFX, McLaren spent many years in the world of commercial editing and was an Executive Producer at Panic & Bob Editing. Over her 13 years at Panic & Bob she worked with a number of talented Canadian commercial editors on projects for brands including Ikea, Budweiser, Alexander Keiths, Ford, TD, CIBC and Canadian Tire.
Her commercial production work has won numerous awards, including a Gold Lion at Cannes for the Perlorian Brothers-directed "Prison Visitor" spot for VIM, and most recently a Silver Health Lion for Sick Kids' "Better Tomorrows," directed by Mark Zibert. She has collaborated on a great number of Super Bowl spots over the years out of DDB Chicago, many of which topped the USA Today Ad Meter poll, including BudLight's "Magic Fridge" and Joe Pytka's Budweiser commercials featuring the iconic Budweiser Clydesdales and Dalmatians.
McLaren's understanding of production and post lends itself well to her collaborative approach, which focuses on how to best meet the needs of the agency, production company and post production company.
Posted October 28, 2015

Toronto-based advertising agency Rain 43 has been riding a wave of momentum culminating with the promotion of Laura Davis-Saville to Vice President, Director of Strategic Planning and the hiring of Shawna Dressler as HR and Operations Director. 
Davis-Saville's promotion follows a period of significant growth at Rain 43, in which the agency added a number new clients, including Homewood Health, Sentry Investments and the Independent Energy System Operator – including the former Ontario Power Authority's saveONenergy brand -, and doubled its staff from 22 to 50 in just six months. In her new role as Vice President, Director of Strategic Planning, Davis-Saville will be responsible for strategic oversight of all agency clients, as well as new business opportunities
The addition of Shawna Dressler to Rain 43 is another move that hearkens to the growth the agency has been experiencing. Dressler joins Rain 43 from Zulu Alpha Kilo, where she worked in recruitment and talent management. She is currently working on putting together an HR and culture plan that will help propel Rain 43 into a strong position for future growth.   
keep looking »