Canada
Posted May 6, 2015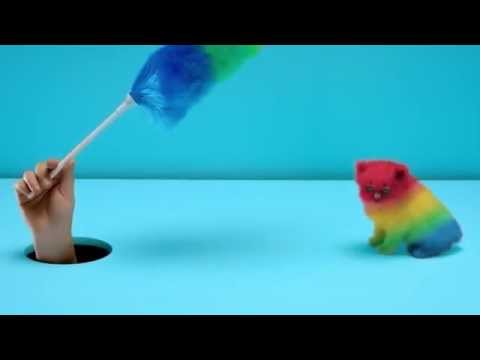 Ah, happiness. Who doesn't like being happy?! Koodo Mobile has launched its new brand platform and integrated campaign, "Choose Happy," created by Toronto-based Camp Jefferson. It's vibrant, fun and bursting with happiness. There's so much to make you smile. In fact, I've watched the popsicle vid (above) about 5 times today. It puts big smile on my face.
The Canadian telco's new direction stems from a key insight at the heart of the brand's business: Koodo customers are happy. The new platform is currently being brought to life, colourfully and exuberantly, across a ton of touch points. Koodo worked with a diverse network of illustrators, animators, designers, artists and directors to create a massive convergence of eclectic, creative, inspirational content, akin to the creativity of the Internet, and geared towards making people happy. The content includes things like an animated loop of a robot slipping on a banana peel, images of smiling popsicles, and dogs that turn into bunnies. It's often accompanied by cheerful observations, like "happiness is no hidden fees," and "happiness is perfect parallel parking when everyone's watching."
Posted April 30, 2015

Meet Toronto's newest shop – Camp Jefferson.
The international communication network Vision7 announces the launch of its newest agency Camp Jefferson. The new full-service creative agency is purpose-built for today's evolving and demanding communication environment.
The name is a reference to the shop's Jefferson Ave. offices in Toronto's Liberty Village.
"The launch of Camp Jefferson is very exciting. Our mandate with clients has evolved and our growth over the recent months has resulted in the addition of new staff and capabilities. The marketing community will get its first tour of Camp Jefferson when they see the work that hits the market this Spring and Summer," says Peter Bolt, SVP, Managing Partner of the new agency.
Camp Jefferson builds upon the staff and clients of DARE Toronto, including Coca-Cola, NHL, Great West Life Co., KAO Brands, Penguin Books, and Side Launch Brewery. The addition of Koodo Mobile will fill out the starting roster for the new agency.
Posted March 27, 2015
Last night
The Bessies
were held in Toronto – celebrating the best of Canadian broadcast advertising.FCB, Leo Burnett and DDB took home the top honours – each with a Best in Show.
Leo Burnett's "#LikeAGirl" for Always won the top prize in digital film (above), while DDB Canada's "Pep Talk" for Netflix won in television (below). FCB Toronto's "Invade" for Ontario Tourism and the upcoming Panam/Parapanam Games won in the craft category (below).
Posted March 16, 2015

TFO creates first-ever national portrait by combining the faces of thousands of Canadians.
Samuel de Champlain helped shaped the face of Canada, and now Canadians have the chance to do the same for him in this new project created by Lowe Roche.
While Samuel de Champlain was a significant figure in Canadian history — hailed as the 'first modern cartographer of Canada' and an expert mariner who crossed the Atlantic 27 times amongst many other amazing feats — an interesting fact about him is that nobody really knows what he looked like. The pointy-moustachioed visage people have become familiar with is, in fact, merely the product of an artist's imagination. So, to generate buzz around the release of TFO's "Rêve de Champlain," a six-part miniseries providing a portrait of the explorer and celebrating 400 years of a Francophone presence in Ontario, the French-language public broadcaster has created "Champlain: Portrait of a Nation," a microsite where Canadians can lend their faces to create a composite image of one of Canada's most notable, but mysterious historical figures.
At revedechamplain.com/portrait Canadians can upload their picture, along with the faces of other Canadians, to give a face to Champlain and celebrate the spirit of the man by creating a unified face of our nation in the process. Champlain's face, like the face of our nation, will change over time as more people add their portraits to the mix, and visitors to the microsite will be able to see the individual portraits of all those who decide to donate their face to Champlain.
Posted March 2, 2015

One Earth Farms has named Transcend3 as their national advertising agency of record and strategic partner for all of their brands under the One Earth Farms umbrella in Canada, including Beretta Farms and Sweetpea Organic Baby Food. One Earth Farms is a leading fully integrated 'farm to fork' Canadian company with a diverse portfolio of premium healthy organic, all-natural and grass-fed foods.
"We were very impressed with their creative credentials, deep experience in the food category and their track record for results," said Cynthia Beretta, Marketing Director, One Earth Farms. "They also stood out for their unique and seamless bilingual creative approach that is developed by one team. Their creative concepts combined with their experience and ability to take our brands to Europe made Transcend3 the right choice."
Transcend3 will be responsible for positioning each brand, as well as national creative including print, packaging, POS, social media, broadcast and special design initiatives.
Posted February 17, 2015

Shari Walczak and Shane Ogilvie, former Zulu Alpha Kilo executives have left their posts at the agency to open up The Garden, a new breed of creative company.
Ogilvie, previously ZAK's Executive Creative Director, and Walczak, formerly its Executive Planning Director, promise that The Garden will take a broader approach in harnessing creativity to offer brands new and innovative solutions to their business-related problems.
The Garden promises a holistic approach to its creative offering, which includes making marketers a part of the entire process and working with all divisions of a company to design and deliver the best possible brand experience. Anything can grow in a garden. All you need are the right conditions, the seed of a good idea and the proper care and attention.
Posted February 11, 2015
Toronto-based Revolver Films is pleased to announce that director Thibaut Duverneix has joined its roster and allows the company to further expand its offerings in the fields of interactive, experiential and installation.
Born and raised in France, but now based in Montreal, Duverneix is a multidisciplinary artist who boasts a diverse body of work in music, photography, computer programming, animation and film. His talent has carried him across a number of different genres with a focus on innovative ways of creating film and experiences.
In 2012, Duverneix was named one of the New York Art Directors Club's Young Guns, amongst the best creatives under 30 in the world. His current commercial film portfolio includes work for Couche-Tard, Astral Media, the Government of Quebec and the City of Montreal.
Posted January 26, 2015
Lowe Roche is pleased to announce that Jeff Dack has joined its Toronto office as Chief Strategy Officer.
Dack will lead the strategic planning practice at Lowe Roche, his role as chief strategy officer is a brand new position at the agency. Dack is bringing with him a pedigree chalk full of experience having experience working in a variety of roles throughout his career both agency and client side.
Prior to Lowe Roche, Dack served as a marketing executive with Jamieson Laboratories, Canada's largest VMS (Vitamin, Mineral, Supplement) brand, where he oversaw the marketing and communications group. Before his tenure at Jamieson, Dack was the director of strategic planning at TAXI, where he was responsible for leading all strategic planning duties. With a team of strategists, he also successfully brought the strategic planning discipline and processes into the agency's offshoot, TAXI 2. Dack's move to Lowe Roche reunites him with agency CEO Monica Ruffo, for whom he worked with ten years ago at Cossette.
Posted January 13, 2015
SNDWRX, a Toronto-based audio production studio, has opened their new studios in Kensington Market and is having a big studio warming party this Thursday night. It should be a great time and they've created the videos above and below to promote their new digs and the bash..
Helmed by Didier Tovel, SNDWRX features an exclusive network of internationally acclaimed artists, sound designers, composers, voice directors, engineers, producers and music supervisors. For clients, they come together to form specialized teams in order to craft authentic sounds, giving them a wide variety of talent and the ability to take on multiple projects across multiple disciplines, while simultaneously focusing on their core strength, audio.
View the party invite here or on the Facebook event page.
Posted November 17, 2014

In case you missed getting a tour of Smith's new offices last week, here's the best of the Sadie Cam – a French Bulldog named Sadie "armed" with a GoPro that gives office tours.
keep looking »