TV Commercial
Posted February 24, 2015

Fancy yourself to be filmmaker? For its Oscars spot, Samsung features an amateur filmmaker making movie magic using a variety of the brand's devices – the result is a lot of funny (and often awkward) moments and some great lines:
- My movie is going to kick that movie's movie butt
- It's sort of Pirates of Penzance meets Weird Science
- Don't worry we'll take care of it in post
72andSunny created the spot, it's directed Stacy Wall of Imperial Woodpecker, and Arcade Edit's Geoff Hounsell, Will Hasell and Sean LaGrange all collaborated on editing.
Posted January 20, 2015

Australian haircare brand Aussie has tapped into the talents of Graydon Sheppard and Kyle Humphrey's successful Sh*t Girls Say series (films, twitter and a book) with this new comedic spot – Sh*t Girls Say About Hair.
The spot was created by mcgarrybowen, and Graydon Sheppard directed via The Directors Bureau. In Canada (where we miss him & Kyle terribly) Graydon is repped by Soft Citizen.
Nicely done Graydon & Kyle!
Posted January 16, 2015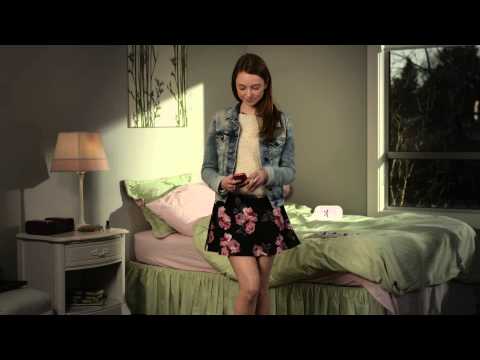 Here's a well-executed and thought-provoking PSA from Children of the Street Society's Predator Watch and #ParentProject campaign advising parents to talk to their children about the dangers of online predators.
The spot was created by Cossette, Vancouver. It is very similar to this 2004 spot out of France, created by Saatchi & Saatchi, Paris and directed by Toroto-based Yael Staav.
Both spots simply and cleverly portray frightening issues.
Both spots simply and cleverly portray frightening issues. Full credits for the Children of the Street Society spot are posted here.
Posted January 9, 2015
The latest for Toronto Crime Stoppers, via DDB Canada and directed by Partners Film's Michael Downing, is a mix of Breaking Bad and Jamie Oliver – And I really like it.
The spot is part of the first public service campaign for Toronto Crime Stoppers, and it provokes recreational or party drug users to become more vigilant about MDMA, popularly known as ecstasy or Molly. Warning consumers, "Molly is not the drug you think it is," the new awareness-building initiative features a video, parodying a cooking show, where a drug lab "cook" shares his recipe for Molly laced with methamphetamine and bath salts.
Although the spot is entertaining, this issue is no laughing matter – this past summer, two people died as a result of party drugs at the VELD Music Festival.
Posted January 8, 2015
Here's a comedic new spot from Pereira & O'Dell for for 1-800-Contacts that finally explains the link between pirates and eyepatches.
It's directed by Epoch's Phil Morrison, Arcade's Greg Scruton edited the spot, and VFX and design are by Arcade Edit's sister company, Timber.
Posted December 12, 2014
We are on day 36 of an incredibly intimate and emotional 45 day campaign for SickKids by JWT Toronto. The campaign aims to pull back the curtain by inviting audiences to witness 45 daily commercials that show what's going on at the hospital right this minute. The campaign, called "Better Tomorrows," is centred on the tagline "Make their tomorrow as good as your today."
The 30-second commercials are directed by Sons & Daughters' Mark Zibert, Michelle Czukar at Panic & Bob edited, and are set to the song "Fix You" by British band, Coldplay, chosen to represent the hope SickKids families have that their children will get better. Patients featured in the commercials are between four-days and 18-years-old with conditions ranging from cystic fibrosis to various childhood cancers to organ transplants. Many of these young patients are in active treatment and mustered all of their energy and courage to participate in the campaign to inspire the community to support SickKids this holiday season.
Watch all the spots on SickKids' YouTube channel.
Posted November 26, 2014
Old Spice and W+K Portland have again partnered with Seattle-based music house Walker for Dadsong – the follow-up to last year's award-winning Momsong.
Walker owner and Executive Producer Sara Matarazzo brought on Bret McKenzie and Mickey Petralia from Flight of the Conchords on board to compose the music – Walker has worked with the duo on several ads over the years. The result is this great musically driven spot that's influenced by classic rock ballads and operatic recitative.
Read more on how the spot was created on Adweek. Full credits are here.
Posted November 6, 2014
John Lewis, adam&eveDDB and Blink director Dougal Wilson have created yet another amazing and heartfelt Christmas ad, set to Tom Odell's cover of John Lennon's Real Love (I like that Tom Odell – especially this remix).
The live action and CG spot, "Monty the Penguin," has put tears in my tea – and I'm ok with that. In fact, I'd feel ripped-off if it didn't. This is the seventh spot Dougal Wilson has directed for the London retailer – other gems include The Long Wait (my fav), The Journey, Never Standing Still, and the stop motion Things Matter.
Posted October 21, 2014
I have a feeling that Halloween isn't big in Sweden, but I do like a little Kubrick-inspired spot.
BBH Asia Pacific pays hommage to The Shining in their latest for Ikea. Side note – being at Ikea on a busy Saturday can make you feel like you are in a horror film. Found via Creativity.
Posted October 14, 2014
Spotify has released it's first ever US ad campaign with a trio of spots that set memories to music.
The campaign was created via a partnership between Ogilvy & Mather NY and David. The spots are directed by Caviar's Jeremy Konner and edited by Will Hasell and Geoff Hounsell at Arcade Edit.
The "I"m a Drifter Again" spot is posted above. Below is the "Don't Go Chasing Girls" spot. See the "Toilet Paper Committee" spot here and read more about the campaign on Adweek.
keep looking »