Design
Posted April 23, 2015

Here's one from the "why did't I think of this?" files. Artists Chris McMahon and Thyrza Segal have been giving thrift store paintings a new life by adding monsters to them.
Using acrylics or oil paints that match the original artwork, they add new characters to the art with some entertaining results – like monster photobombing, or I guess artbombing.
See more images. Scooped from awesomy.com.
Posted April 20, 2015
The Toronto Silent Film Festival has once again turned to Instagram to promote its 2015 Festival. This is the third year using the social platform as an awareness tool for the festival. And in keeping with its innovative approach, TSFF has created a way in which people can experience all the films being shown at this year'​s festival in a truly personal way – allowing the user to create their own film.
Utilizing the 15 second video feature on Instagram, Toronto creative agency Red Lion created a "choose your own adventure" on the festival's instagram account. Using only scenes from the films being featured in the festival, each scene ends with a choice for the user. Based on the hashtag they choose, the platform loads the corresponding scene, each scene has two possible choices.
Posted April 15, 2015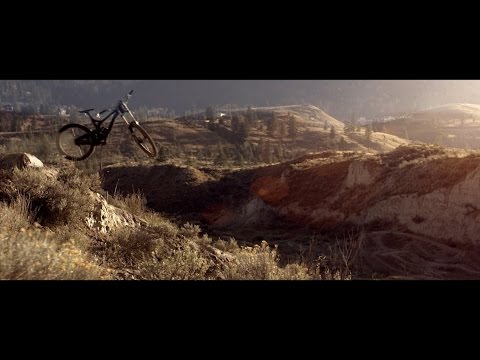 Here's a visually stunning spot for Cycling Canada created by Innocean Worldwide Canada, Toronto-based Alter Ego, and director Mark Zibert.
The 60-second spot features a variety of bicycles speeding this way and that in a number of different environments, some alone and some in large packs, some travelling extremely fast. There's one catch. None of them have riders. The goal is to inspire Canadians to get active, and the spot serves up a succinct rallying cry to potential riders: "Hop On."
Posted April 13, 2015

Doing the dished never looked so good.
W+K London has created this visually beautiful spot starring dirty dishes. It's directed by Megaforce, of Riff Raff Films, and The Mill did the visual effects. But I really do wish that Finish would have posted it to YouTube in HD. What a shame.
More info on Adweek.
Posted April 6, 2015
The revelatory HBO Documentary Film Going Clear: Scientology and the Prison of Belief, which debuted on the network to a record audience number on Sunday March 29, offers a rare glimpse behind the veil at the Church of Scientology. Before the curtain was lifted, New York-based VFX studio Artjail was enlisted by lauded documentary filmmaker Alex Gibney and Jigsaw Productions to help visualize the overall look he had in mind for his film.
Artjail was involved in working on many important aspects of the documentary. In particular, the studio designed the film's important and impactful opening sequence (above), which drew viewers right into the mysterious inner world of of Scientology by depicting its peculiar "auditing" process. Artjail shot live-action footage and created the type design for the sequence
Using stock footage, CG and 2D elements, Artjail also created the animations for the film's "Myth of Creation" sequence (below), which is narrated by L. Ron Hubbard himself. The animated footage is layered, creating a surreal and bizarre set of images that serve as a visual interpretation of Hubbard's strange, sci-fi explanation for how the world was created.

Read more.


Posted March 30, 2015


Yep, if this doesn't prepare you for Monday, nothing will.
Odd, and oddly catchy, here's a music video for Traffic Signs & Jake The Rapper's "Cookie Jar," directed by Ben&Julia (you should follow them on Instagram).
Scooped from Stash.
Posted March 12, 2015
In an effort to get people off their sofas and be move active, French bottled water brand Vittel has created the Couch Converter – yep, they are making your old sofa into running shoes.
Couch converter is available for Vittel's markets in Germany, Belgium, and the Netherlands. Sadly, due to high demand, the company's cobblers are no longer accepting any more couch designs. But you can see existing sofa to sneaker designs in their gallery.
Scooped from PSFK.
Posted March 6, 2015
This is mesmerizing. Created by Stanford design instructor John Edmark, these 3-D printed sculptures, called blooms, are designed to animate when spun under a strobe light. Learn more here.
Happy Friday & enjoy.
Posted March 5, 2015
Netherlands-based animation, illustration and design studio Job, Joris & Marieke created a 100-frame short loop animation and then created a 3D printed installation out of it, frame by frame.
The whole animation is made in CGI, and they used a 3D printer to print each frame. The result a string of characters in different poses, which explains the principles of animation beautifully, without a single bit actually moving.
The installation was created for MOVE ON…! in Kunsthal KAdE, where it can be seen until May 10th.
Posted January 22, 2015
Here's a super cool project – those kids above, they designed the skateboards they are holding – and created their own businesses to brand and market them. They even got high school credits for doing it. The skateboarding pipe pic is their graduating class photo. And it's way better than any school pic I ever had.
Anomaly, a new-model creative agency based in Toronto, is in its 2nd year of an on-going partnership with Oasis Skateboard Factory, an award-winning, Toronto District School Board alternative high school program that allows at-risk students to earn high school credits by running a skateboard and design company.
As part of this innovative partnership, students are matched with mentors from Anomaly who coach and support them through the development of their skateboard brands from the ground up – including naming, brand manifesto and visual identity – and through their professional development as entrepreneurs. A classroom learning series teaches and develops essential business and life skills which are then applied and evaluated by peers and mentors.
keep looking »