Experiential
Posted May 19, 2016
The Salvation Army has launched a new awareness-raising exhibit and video series to help 1 in 10 Canadians living in poverty. Together with its Agency of Record, GREY Canada, the charity has created a new campaign entitled "Poverty Isn't Always Easy to See", an initiative aimed at showing people that their fellow Canadians struggle to make ends meet even with a roof over their heads. The campaign raises awareness to the fact that those in need aren't solely homeless and encourages donations outside of the holiday season. The online, out-of-home and print campaign aims to inspire donors to become monthly donors.
The campaign staged a real life "Open House" exhibit to show how poverty often remains hidden behind a seemingly fine exterior. From the outside, the home looked well kept. But inside, the public was faced with a different reality. Unknowingly, the public walked into a home representative of a family living in poverty. The open house provided an interactive, immersive experience with plaques and visual displays highlighting the struggles of over 300,000 Canadians living in poverty. The house featured hidden cameras to capture people's reactions to the displays. The entire experience can be found at salvationarmyopenhouse.com.
The campaign includes one long-format video, two 30-second online videos and a 360-degree virtual home tour where viewers can experience the open house digitally. The video ends with a call for donations, guiding donors to a redesigned Salvation Army donation page where users can take the 360 'open house' virtual home tour for themselves. In the first 24 hours, the campaign had over 300,000 organic views and shared 2,500+ times.
Posted May 5, 2016

Subaru Inspires All to Get Out and See a Star-Filled Sky
Many people have never beheld the majesty of a starry sky, one of the most breathtaking sights in nature. An estimated 85% have only ever seen but a few of the brightest stars because of brightly lit urban areas. Subaru Canada intends to change that with a new social and digital campaign for the Subaru Outback that's giving people billions of reasons to get out at night and look up.
Developed in partnership with the Royal Astronomical Society of Canada, #SubaruDarkSky is an initiative that seeks to inspire Canadians' inner stargazer by sparking their desire and curiosity to see what's 'up there' — the billions of bright little lights that illuminate the vast expanse of sky above. #SubaruDarkSky will kick off this spring with a digital video depicting a family that heads out in their Subaru Outback to a remote location outside the city so they can gaze upon the grandeur of starry sky uninhibited by artificial light. The video, which will also appear in cinemas, will serve as launchpad for an ongoing, multichannel effort encouraging Canadians to head out out under starry skies across the country.
Following the launch of the video, #SubaruDarkSky will really kick into high gear on social media. The initiative will roll out across a number of social channels, including Subaru Canada's Facebook and Instagram channels, and will include content that seeks to inspire and enable astronomical curiosity.
#SubaruDarkSky also features a dedicated website at SubaruDarkSky.ca, which presents aspiring stargazers with information about the initiative, a brief history of constellations, the locations of Dark-Sky Preserves, stargazing tips and info on viewing meteor showers. The initiative will also be promoted by digital display ads, print ads in outdoor and lifestyle magazines, and a closed captioning sponsorship on television.
The campaign was created by Red Urban and the #SubaruDarkSky video was directed by John Mastromonaco of Untitled Films.
Posted December 7, 2015
The holidays, festive and joyous for most, can bring increased stress and fear to women in abusive relationships. According to numerous studies, domestic violence against women surges during the holiday season, sometimes by as much as 30 percent. One in four women are victims of domestic violence during their lives, says a UN study. And, countless innocent children bare witness to the abuse.
To help illuminate the horrifying realities of violence against women, FCB Toronto teamed with The Ontario Association of Interval & Transition Houses (OAITH), a provincial coalition founded by women's shelter advocates in 1977 and Yellow Brick House, an OAITH member shelter located in the York region area of North of Toronto that provides a safe place for women and children escaping domestic violence, have launched "The Window Project" to raise awareness and generate funds for women and families impacted in Canada.
"The Window Project," centers around a window display at the Untitled & Co store, 438 Queen Street West, in the Fashion District area of Toronto, that will illustrate the grim reality some families face during the holiday season in an elaborate holiday-themed window from Dec. 6-13.
At first glance, holiday shoppers will think they stumbled across a festive window. But upon closer inspection, the scene will depict one where a woman and her family are the victims of domestic violence. Viewers are empowered to stop the violence by making an SMS donation to OAITH. This action immediately stops the abuse in the scene for 60 seconds. By raising awareness, the program aims to bring an end to abuse for good.
Posted August 17, 2015

A little yodelling, a bit of falsetto and some good old barbershop quartet, these are just some of the many musical easter eggs that reward people for visiting SNDWRX's brand new interactive website. There they can play a sound-based trivia game or create their own musical compositions. It's a virtual musical playground with a gameshow-like feel that mixes sonic samples with audio-inspired animations whilst putting music production at users' fingertips.
An ode to the world of growing sound design technology, video games and the kinds of true-skool samplers and drum machines the SNDWRX team still loves to play with, the website was developed to bring the joys of music production to the masses. Its launch also coincides with the opening of SNDWRX's brand new studios in Toronto's Kensington Market.
To showcase the new website, SNDWRX recently took to the streets in front of their Kensington Market​ digs to give people a chance to make their own music, play the trivia game, and win some prizes. View a video showcasing how the site works above. Read more.
Posted June 19, 2015
Last month I launched Koodo's new brand platform, Choose Happy, created by Toronto-based Camp Jefferson. The campaign celebrates that Koodo's customers are the happiest in Canada (according to JD Power's ranking of Best in Customer Satisfaction). To showcase this, they created a campaign of small bits of happiness-infused, mobile optimized content built for sharing.
To date to following has been created – 8 spots, 7 Pre roll spots, 5 GIFs created for Happy Hub, 17 music tracks, 58 animations from Mike Perry, 4 installations, 1 Choose Happy Mural, additional 25 animations and 8 games on the Happy Hub.
The Cat Paint game on the happy hub seems to be a favourite (who doesn't want to paint a cat?), and many people have shared their designs on Koodo's Facebook page. I've shared a few of my favs above. See more here.
Koodo and Camp Jefferson will continue to build more happy for this campaign as it goes on.
Posted May 14, 2015
The Mad Max: Fury Road Dusty Car Wash. Come in clean. Leave dusty.
To promote Mad Max: Fury Road a piece of downtown Toronto was transformed into a post-apocalyptic world – complete with scrap metal, pyrotechnics and of course, coloured smoke grenades. At the centre of all the chaos: The Dusty Car Wash.
People were invited to bring in their vehicles and have them covered with dust, which became canvases for artists. These artists would then re-create imagery from the movie on each vehicle, including: skulls, flames, gears, movie quotes, and even the title and release date. Once vehicles were covered with artwork, they drove away – creating mobile billboards all around the city.
This dust-filled, one-of-a-kind stunt was created by Toronto-based creative agency Lowe Roche with the support of Warner Brothers Pictures Canada, a team of Hollywood set dressers and professional artists.
Posted March 16, 2015

TFO creates first-ever national portrait by combining the faces of thousands of Canadians.
Samuel de Champlain helped shaped the face of Canada, and now Canadians have the chance to do the same for him in this new project created by Lowe Roche.
While Samuel de Champlain was a significant figure in Canadian history — hailed as the 'first modern cartographer of Canada' and an expert mariner who crossed the Atlantic 27 times amongst many other amazing feats — an interesting fact about him is that nobody really knows what he looked like. The pointy-moustachioed visage people have become familiar with is, in fact, merely the product of an artist's imagination. So, to generate buzz around the release of TFO's "Rêve de Champlain," a six-part miniseries providing a portrait of the explorer and celebrating 400 years of a Francophone presence in Ontario, the French-language public broadcaster has created "Champlain: Portrait of a Nation," a microsite where Canadians can lend their faces to create a composite image of one of Canada's most notable, but mysterious historical figures.
At revedechamplain.com/portrait Canadians can upload their picture, along with the faces of other Canadians, to give a face to Champlain and celebrate the spirit of the man by creating a unified face of our nation in the process. Champlain's face, like the face of our nation, will change over time as more people add their portraits to the mix, and visitors to the microsite will be able to see the individual portraits of all those who decide to donate their face to Champlain.
Posted March 4, 2015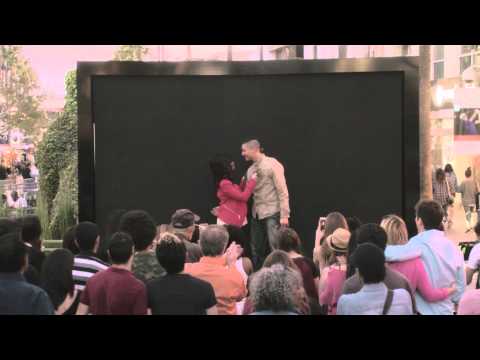 Here's a stunt that was shot on Valentine's Day in Santa Monica. It's part of the "Love Has No Labels" campaign for Ad Council and it hopes to shake people up and help them realize that everyone holds biases, even if they aren't aware of them.
It was created by R/GA, and directed by Danielle Leviitt of Persuade Content.
The year-long campaign, which extends online with stories and a quiz about bias, is designed to make people aware of their implicit biases—how we make snap judgments about others without even realizing it.
Posted February 17, 2015
Water into wine, healing the blind…and now, see Jesus in a marketing meeting discussing his next great feat.
To showcase its unique production and post-production offerings, Montreal-based 1one created this promotional video, in partnership with integrated advertising agency lg2, that gives viewers a seat at an iconic brand planning session led by the most famous advertising client of all time, Jesus. The table talk fictitiously reveals how 1One helped the Messiah top his previous branded efforts — no small task when you're trying to outdo giving sight to the blind or turning water into wine.
1one's aim every time is to execute stunts that look like they defy the laws of nature. Its portfolio includes branded experiences for a number of renowned ad agency clients, including Ogilvy & Mather, lg2, DenstuBos, Cossette and Taxi, on behalf of some of the biggest brands in the world, including Dove, KLM, Telus, Air Transat, and Cirque du Soleil. Its most recent project, Dove's "Love Your Curls," via Ogilvy & Mather Paris, is the fastest spreading campaign in Dove's history.
Posted November 19, 2014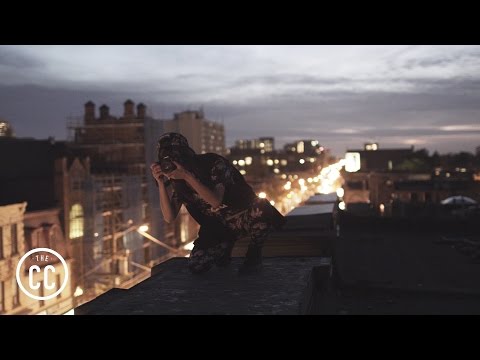 For Creators, By Creators – Toronto-based FREE launches a Millennial-powered digital channel "The Creator Class" in progressive studio partnership with Canon Canada.
"The Creator Class" is a creativity lifestyle channel for those who share their passions for a living. Anchored on YouTube and Instagram, the slate of social programming shares the lives, ambitions, and craft of leading content creatives in Music, Style, Adventure, Arts, and Culture. True to the channel's collaborative premise, all programming is produced by FREE's community of leading social storytellers.
keep looking »