Experiential
Posted November 19, 2014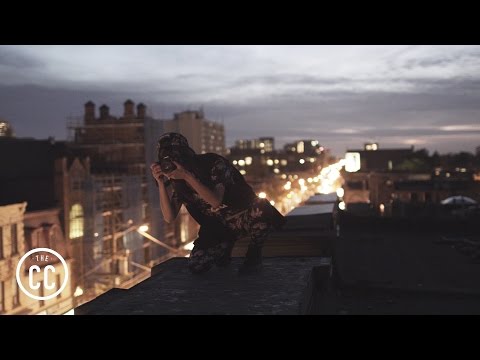 For Creators, By Creators – Toronto-based FREE launches a Millennial-powered digital channel "The Creator Class" in progressive studio partnership with Canon Canada.
"The Creator Class" is a creativity lifestyle channel for those who share their passions for a living. Anchored on YouTube and Instagram, the slate of social programming shares the lives, ambitions, and craft of leading content creatives in Music, Style, Adventure, Arts, and Culture. True to the channel's collaborative premise, all programming is produced by FREE's community of leading social storytellers.
Posted September 9, 2014

Being a brand long associated with sun and summer, Corona is providing Canadians with some extra sunshine at the end of this summer via their "Corona Sun Beam".
Via Toronto-based creative shop Zulu Alpha Kilo, a Corona reflector screen has been mounted to a crane to divert some extra sunshine onto shady patios. Nice stunt.
Posted November 22, 2013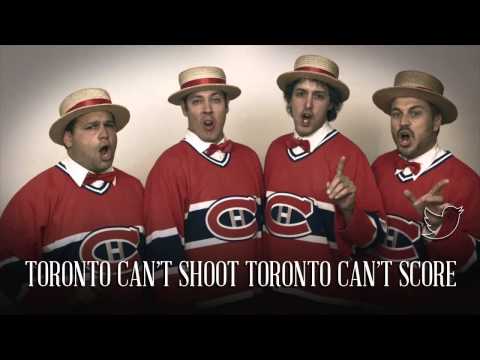 The long-standing rivalry between the Toronto Maple Leafs and Montreal Canadiens is the oldest hockey rivalry there is and one of the most storied and celebrated match-ups in all of sport. Recognizing that an historic hockey rivalry like this one requires some old school heckling, MaserCard and and MacLaren McCann delivers harmonious heckling for hockey season in the form of he barbershop quartet.
Posted September 30, 2013
LEGS and Lexus Collaborate with MADE Fashion Week, MILK, Coco Rocha and Giles Deacon to Create Live Holographic Fashion Experience
during New York Fashion Week.
Called "Lexus Design Disrupted", the spectacle kicked-off MADE Fashion Week and brought together the worlds of fashion, art and technology. With the creative vision of directing duo, Radical Friend, LEGS was able to bend space and time to execute the grand scale project.
The video above is a 6-minute cut-down of the 15-minute show. Read more and view the full-length version here.
Posted September 18, 2013
Twelve notes. Twelve opera singers. One instrument.
In collaboration with the Festival d'Opéra de Québec, TFO, and their AOR Lowe Roche, brought opera to the people by inviting the public to engage with a new interactive and never-been-seen-before instrument.
The Living Opera Organ is a 12-note, giant keyboard that you play with your feet, featuring opera singers who elegantly belt out their corresponding notes as the different keys are played. The singers were connected to the notes via vibrating bracelets, so every time someone stepped on their note they would get "shocked" into singing.
Posted August 26, 2013
As part of MINI's "NOT NORMAL" campaign and MINI's undisputed go-kart handling, MINI Canada and their AOR Anomaly took directly to the streets and created the MINI Roller Coaster. Through vigorous planning and with the help of Toronto-based production company Asymetric, three MINI Cooper S models were completely retrofitted to create a MINI Roller Coaster.
Posted July 8, 2013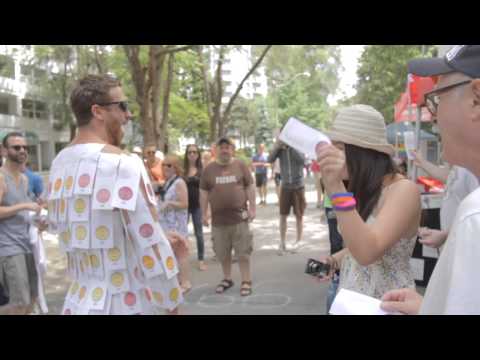 This is a little sadistic, and I like it. Fuzz Wax Bar and and Lowe Roche introduced 'Street Waxing' to Toronto last week.
To show weekend festivalgoers that waxing, while painful, is worth it, Fuzz Wax Bar and partner agency, Lowe Roche, invited people to tear a wax-strip off a male model, covered entirely in wax-coated strips.
Each strip featured a cartoon face pain indicator that corresponded with the pain of having the particular body part (on which the strip was placed) waxed. Funny phrases like "We'll take the monkey off your back" and "You'll walk a little differently" accompanied the tagline "So good, it hurts".
As more and more people pulled wax-strips from the model's body, he was left completely exposed – and hairless – in the Toronto streets.
Posted June 25, 2013
Here's a nice stunt just in time for Canada Day (this coming Monday). Rethink and Molson Canadian's "The Beer Fridge" that brings back the "I am Canadian" tagline in the form of a hashtag.
The spot, directed Jonty Toosey of Partners Film, features a beer fridge fully stocked with Molson Canadian which was placed in a number of European cities. The catch – not everyone can open it. It can only be opened by scanning a Canadian passport. A 30-second version of the ad aired during game six of the Stanley Cup playoffs.
Posted June 10, 2013
I started and stopped watching hockey when Toronto made it into the semi-finals and then lost. After they lost, I lost interest. I'm "fair weather" like that.
During this year's Stanley Cup run, Coors Light teamed up with DraftFCB Montreal, MEC Canada and Thinkingbox to create an interactive outdoor experience called "L'action sur la glace" or "The Action's On The Ice", bringing Montreal Canadiens' fans even closer to the action.
Posted May 30, 2013

This year marks the 25th Anniversary of the Becel Heart & Stroke Ride for Heart. It is one of the city's most beloved fundraising event, and an amazing adventure for cyclists, with the ability to ride on Toronto's Don Valley Parkway and Gardiner Expressway route that is closed to motorists.
In an effort to create a surge in donations and rider support prior to event, Toronto-based Lowe Roche created bicycle pedal wraps to elicit support from Toronto's cyclist community, a powerful group who would identify with the cause and event.
Over 1000 covers were placed throughout the city over the past 10 days. Neighbourhoods with a very high concentration of bike commuters were targeted – the entertainment district, Yonge & Eglinton, Bloor/Yorkville, and Dundas/Ossington to name a few. The custom bike pedal covers placers on the pedals of parked bikes feature a series of messages driving cyclists to support their fellow cyclists in the Ride with an online donation.
Watch a video of the initiative here. The Ride is this coming Sunday, June 2, and it's not too late to show your support at rideforheart.ca.
keep looking »