Branded Content
Posted May 10, 2016
Here's some new work from Toronto-based Bensimon Byrne (the agency that helped get Canada's new Prime Minister into office).
How do you get millennials interested in retirement saving? Not an easy feat. Frankly, no one really wants to hear from the government. so Benisimon Byrne came up with the idea of a generational exchange of wisdom. Retirees who understand the realities of retirement, were paired with YouTube celebrities, who could teach retirees a thing or two about pop culture. As they exchanged their wisdom, the bond between the generations grew.​
A retiree named Livingstone (above), a former cop who then helped his wife run a motel, was paired with Andrew, a YouTube video star. Andrew taught Livingstone how to create a music video, and Livingstone taught Andrew about retirement while making him his famous jerk chicken.
Kathy (below), an 80-year-old retiree and former assistant, was paired with Brent, Toronto's most popular radio personality from Indie 88. Kathy learned how to be a disc jockey while Brent learned there was much more to retirement than he thought.
The campaign is directed by Andrew Norton of Untitled Films.​

See the third spot in the campaign, read more and view full credits.


Posted April 26, 2016
Knorr says that flavour is the secret to love. Seems like a good theory, seeing as good food can be the way to winning anyone's heart.
The brand, via MullenLowe, cleverly hired "First Kiss" director Tatia Pilieva to create this ad. Like "First Kiss," it's fun and awkward to watch. Cool fact – one of the couples in the spot actually became a real couple. They are not saying which one, my money is on the Mia (the blonde) and ginger beard guy – or maybe it's the finger sucker couple, Antonio & Irma. Anyway, the brand says they are considering a follow-up campaign with the matched couple. Scooped from Campaign mag where there's more info.
There's also a behind the scenes (below), if you are a sucker for love & want more.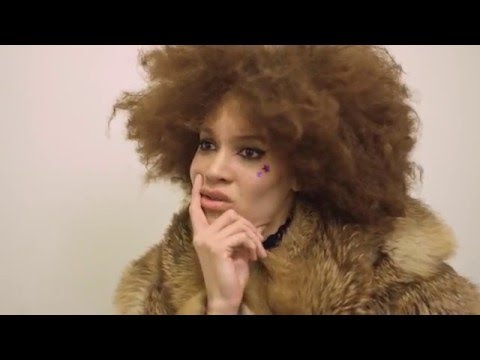 Posted April 25, 2016
The Toronto Silent Film Festival has once again turned to Instagram to promote its 2016 Festival by creating the social platform's first ever Escape Room. In keeping with it's innovative approach, this is the fourth year the TSFF has used Instagram as an awareness tool for the festival.
This year the festival focused on films that were previously thought to have been destroyed or lost. Lost silent films are unique in that other than the films themselves, there are very few records or little visual information that exists about them. It's like they never existed or have been trapped in some forgotten space. That's what led to the insight behind the idea for an Instagram Escape Room.
The escape room is a fully interactive experience where users have to solve clues, find hidden film reels, and unscramble the secret code in order to escape. The entire experience uses a panoramic photo filled with hidden clues and movie props. When the user clicks on any frame, it turns into a POV video where they see themselves searching that area of the room. Each reel contains one letter. Those letters can be combined to create a secret code. There's only one code that opens the door, so you need to find all seven letters to escape.
Red Lion Canada is the creative agency behind the campaign.
Read more and see the past campaigns.
Posted March 1, 2016
Johnsonville Sausage is pleased to announce a partnership with Food Network Canada and its hit series Chopped Canada. The partnership, which will help deepen Johnsonville Sausage's relationship with culinary enthusiasts across Canada, features an exclusive, one-year agreement with Chopped Canada Judge and Food Network Canada Celebrity Chef, Mark McEwan.
The partnership will bring the Johnsonville Sausage brand directly into the homes of Canadian foodies with three different television spots which will air nationally during episodes of Chopped Canada. The spots, which start running February 29, will further connect the brand with Canadians, introducing them to new and inventive ways to mix Johnsonville sausages with different ingredients to reinvigorate flavours across all kinds of meal occasions. The ads show Chef Mark McEwan diving into a Chopped Canada mystery basket of fresh, local ingredients as he is tasked with making three sumptuous, original culinary creations inspired by Johnsonville Sausage. The final featured creations are: crostini with sausage ragout and ricotta cheese; maple syrup sausage and sweet potato hash with poached eggs and hollandaise; and steamed clams and mild sausage with tomato broth. Recipes for each featured item will be available at www.Johnsonville.ca.
Created in collaboration with advertising agency Cramer-Krasselt's Milwaukee office and Toronto-based social media agency Matchstick, the ads will drive viewers to www.Johnsonville.ca where they can watch longer versions of each recipe video, and access a dedicated microsite at www.FoodNetwork.ca/Johnsonville where they can demonstrate their own culinary creativity through a contest that asks "How do you Johnsonville?" By sharing what three local ingredients they think would pair well with the perfectly-balanced flavour of Johnsonville sausages, participants could win a roundtrip to Toronto, a three-night stay at a luxury hotel, and a delicious meal at downtown restaurant Bymark, hosted by none other than the owner, Chef Mark McEwan.
Posted December 18, 2015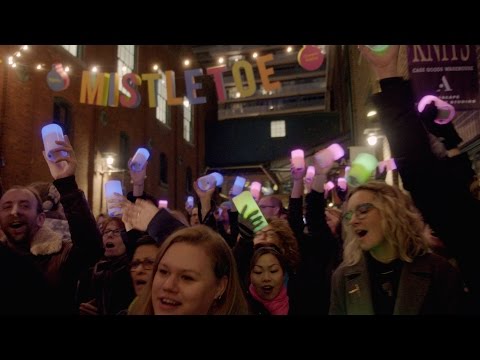 Happy Friday and Happy Holidays!
As the holidays are one of the craziest times of the year, Koodo wanted to spread a little happy. In what's being called a "Random Act of Happy," that builds upon Koodo's "Choose Happy" brand platform, the brand got 98 members of Choir!Choir!Choir! to perform The Cure's "Friday I'm in Love" at the Christmas Market in Toronto's historic Distillery District.
They also put up three word garlands with "FA LA LA LA LA (LA LA LA LA)", "WARM THOUGHTS PEOPLE" and everyone's favourite, "MISTLETOE" (see image below).
Robert Smith, the lead singer of The Cure, loved the arrangement so much that he's donating the licensing fees to the charity of the choir's choice — sponsoring Syrian families in need who are coming to Canada. How awesome is that?
Agency is Camp Jefferson.
Read more about the "Choose Happy" brand platform here.
Full credits.


Posted November 2, 2015
A little bit of gratitude goes a long way in this second instalment of "Gentleman's Wager" for Johnnie Walker Blue label, created by Anomaly and directed by Jake Scott of RSA.
The film reunites Jude Law and Giancarlo Giannini, this time over a wager for a vintage car and a race to Monaco. The films also features actress Zhao Wei and Formula 1 heroes Mika Häkkinen and Jenson Button appear in cameos. I think I like this one better than the first (posted below). Yep, I do. Take 11 mins out of your Monday to watch it.
Posted October 22, 2015
This is funny stuff.
In the latest Exclusively for Everybody campaign for SMIRNOFF®, actors and comedians, T.J. Miller and Thomas Middleditch (HBO's Silicon Valley), journeyed an epic 3,098-miles from Los Angeles to New York Comic Con in "The Road Trip" to pitch a film idea starring superheroes that aren't cut from the same Hollywood cloth.
Documenting the adventure, the SMIRNOFF® brand, in partnership with 72andSunny and Arts & Sciences director Matt Lenski, created a series of six broadcast and online films for "The Road Trip," sharing how T.J. and Thomas learned about the quality of SMIRNOFF® vodka during stops along the way at a comedy club, farm-to-table restaurant, house party, and, finally, in a safe carpool ride.
Posted September 25, 2015
LEGS' Geremy Jasper has teamed with iconic British clothing brand Belstaff to direct a surrealist film in the cinematic vein of Fellini and Sergio Leone. Outlaws, which stars David Beckham, Katherine Waterston, Cathy Moriarty and Harvey Keitel is a heart-thumping fever dream filled with danger, foreboding and romance.
Shot over six days in and around Mexico City, and based off of a screenplay written by Jasper two years ago, Outlaws is a classic story told in a new way. It combines black and white and colour cinematography to create a hypnagogic vision of the Mexican landscape during the early 1950's, a strange setting populated by even stranger people, including peculiar circus performers, a blind tarot card-reading seer, motorcycle gangs and sugar skull sporting mariachi musicians.
Posted September 22, 2015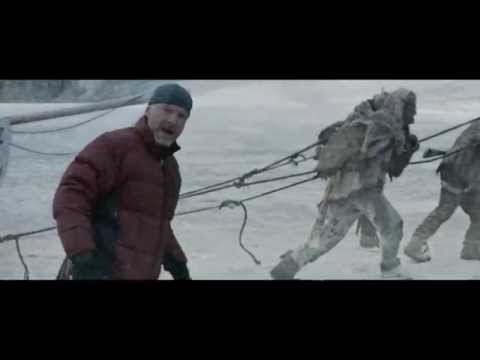 Hudson's Bay Company History Foundation 
celebrates Canada – The Country of Adventurers – with a new television narratives. Survivorman Les Stroud tells the story of Dr. John Rae in first installment of the campaign that sees modern-day adventurers bring the past to life.
This fall, the HBC History Foundation, established by Canada's iconic Hudson's Bay Company, will launch a new series of historical narratives that tell the story of Canada's adventurous past. The History Foundation, whose mission is to advance the knowledge of and interest in Canadian history, created the series to celebrate the remarkable achievements of some the nation's greatest adventurers and explorers.
The first spot, which aired during Canada's broadcast of the Emmy Awards on Sunday night, is posted above.
The campaign was created by Toronto-based Red Urban, directed by Untitled Films' David Tennant, and edited by Mark Paiva at Saints Editorial. Special Effects were handled by Alter Ego, Toronto.
Posted August 13, 2015
Throwback Thursday to November 2008 and this piece of branded content for Diesel. "Pete the Meat Puppet" is a sing-a-long-tale from life in the fast lane. The film was created by NYC-based Legs, via Stockholm-based creative shop Farfar, and was part of a series of films launched on the brand's website.
Enjoy.
keep looking »