Branded Content
Posted December 18, 2015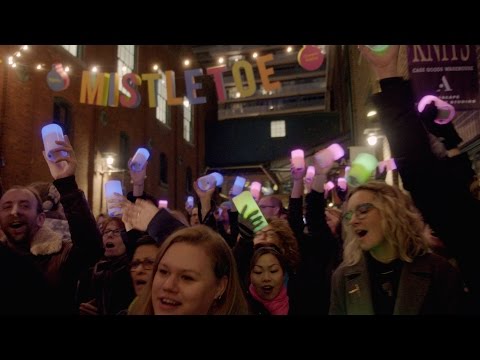 Happy Friday and Happy Holidays!
As the holidays are one of the craziest times of the year, Koodo wanted to spread a little happy. In what's being called a "Random Act of Happy," that builds upon Koodo's "Choose Happy" brand platform, the brand got 98 members of Choir!Choir!Choir! to perform The Cure's "Friday I'm in Love" at the Christmas Market in Toronto's historic Distillery District.
They also put up three word garlands with "FA LA LA LA LA (LA LA LA LA)", "WARM THOUGHTS PEOPLE" and everyone's favourite, "MISTLETOE" (see image below).
Robert Smith, the lead singer of The Cure, loved the arrangement so much that he's donating the licensing fees to the charity of the choir's choice — sponsoring Syrian families in need who are coming to Canada. How awesome is that?
Agency is Camp Jefferson.
Read more about the "Choose Happy" brand platform here.
Full credits.


Posted November 2, 2015
A little bit of gratitude goes a long way in this second instalment of "Gentleman's Wager" for Johnnie Walker Blue label, created by Anomaly and directed by Jake Scott of RSA.
The film reunites Jude Law and Giancarlo Giannini, this time over a wager for a vintage car and a race to Monaco. The films also features actress Zhao Wei and Formula 1 heroes Mika Häkkinen and Jenson Button appear in cameos. I think I like this one better than the first (posted below). Yep, I do. Take 11 mins out of your Monday to watch it.
Posted October 22, 2015
This is funny stuff.
In the latest Exclusively for Everybody campaign for SMIRNOFF®, actors and comedians, T.J. Miller and Thomas Middleditch (HBO's Silicon Valley), journeyed an epic 3,098-miles from Los Angeles to New York Comic Con in "The Road Trip" to pitch a film idea starring superheroes that aren't cut from the same Hollywood cloth.
Documenting the adventure, the SMIRNOFF® brand, in partnership with 72andSunny and Arts & Sciences director Matt Lenski, created a series of six broadcast and online films for "The Road Trip," sharing how T.J. and Thomas learned about the quality of SMIRNOFF® vodka during stops along the way at a comedy club, farm-to-table restaurant, house party, and, finally, in a safe carpool ride.
Posted September 25, 2015
LEGS' Geremy Jasper has teamed with iconic British clothing brand Belstaff to direct a surrealist film in the cinematic vein of Fellini and Sergio Leone. Outlaws, which stars David Beckham, Katherine Waterston, Cathy Moriarty and Harvey Keitel is a heart-thumping fever dream filled with danger, foreboding and romance.
Shot over six days in and around Mexico City, and based off of a screenplay written by Jasper two years ago, Outlaws is a classic story told in a new way. It combines black and white and colour cinematography to create a hypnagogic vision of the Mexican landscape during the early 1950's, a strange setting populated by even stranger people, including peculiar circus performers, a blind tarot card-reading seer, motorcycle gangs and sugar skull sporting mariachi musicians.
Posted September 22, 2015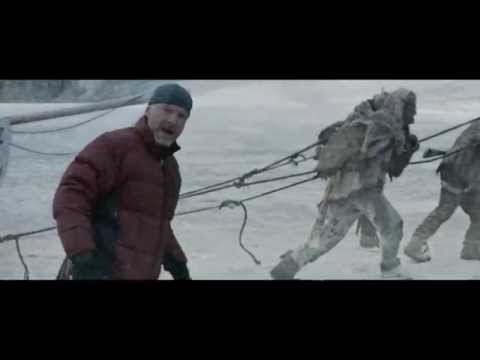 Hudson's Bay Company History Foundation 
celebrates Canada – The Country of Adventurers – with a new television narratives. Survivorman Les Stroud tells the story of Dr. John Rae in first installment of the campaign that sees modern-day adventurers bring the past to life.
This fall, the HBC History Foundation, established by Canada's iconic Hudson's Bay Company, will launch a new series of historical narratives that tell the story of Canada's adventurous past. The History Foundation, whose mission is to advance the knowledge of and interest in Canadian history, created the series to celebrate the remarkable achievements of some the nation's greatest adventurers and explorers.
The first spot, which aired during Canada's broadcast of the Emmy Awards on Sunday night, is posted above.
The campaign was created by Toronto-based Red Urban, directed by Untitled Films' David Tennant, and edited by Mark Paiva at Saints Editorial. Special Effects were handled by Alter Ego, Toronto.
Posted August 13, 2015
Throwback Thursday to November 2008 and this piece of branded content for Diesel. "Pete the Meat Puppet" is a sing-a-long-tale from life in the fast lane. The film was created by NYC-based Legs, via Stockholm-based creative shop Farfar, and was part of a series of films launched on the brand's website.
Enjoy.
Posted July 17, 2015
In partnership with the World Surf League, Samsung Mobile has created this amazing surf tribute. The film, which features pro surfers Mick Fanning, Gabriel Medina, and Malia Manuel, was created by 72andSunny Amsterdam and directed by Eliot Rausch of Stink.
Surf magazines and blogs are already putting it up for consideration as one of the best surf ads of all time.
Posted July 16, 2015

Today's Throwback Thursday is this sweet 2003 Christmas spot for Japanese retailer Francfranc. "A Small Love Story About Alex and Juliet" was directed by the late great Nagi Noda. Oh how I miss her work.
Sorry about the poor quality – this was the best video file I could find.
Posted May 6, 2015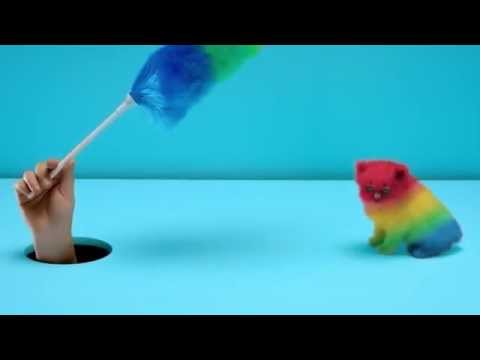 Ah, happiness. Who doesn't like being happy?! Koodo Mobile has launched its new brand platform and integrated campaign, "Choose Happy," created by Toronto-based Camp Jefferson. It's vibrant, fun and bursting with happiness. There's so much to make you smile. In fact, I've watched the popsicle vid (above) about 5 times today. It puts big smile on my face.
The Canadian telco's new direction stems from a key insight at the heart of the brand's business: Koodo customers are happy. The new platform is currently being brought to life, colourfully and exuberantly, across a ton of touch points. Koodo worked with a diverse network of illustrators, animators, designers, artists and directors to create a massive convergence of eclectic, creative, inspirational content, akin to the creativity of the Internet, and geared towards making people happy. The content includes things like an animated loop of a robot slipping on a banana peel, images of smiling popsicles, and dogs that turn into bunnies. It's often accompanied by cheerful observations, like "happiness is no hidden fees," and "happiness is perfect parallel parking when everyone's watching."
Posted February 11, 2015
Ok, I generally find these Valentine's proposal things cheesy – the new WestJet campaign made me say "ugh" out loud – painful. And it's not because I'm bitter or jaded. Just the opposite really, as my partner recently "put a ring on it." It comes down to how the act of the proposal is presented – in a not cheesy way – guys, please stop getting down on one knee, you look ridiculous. High production value and storyline go a long way (of course). Side note on WestJet – the "real" thing is slightly unbelievable with a 2 camera set-up.
Despite that this film for Cartier is slightly over 6 minutes long, it's so engaging. Great stories, settings, performances and production value. Class all the way – as one would expect from the French and the jeweller.
keep looking »