Music Video
Posted November 12, 2013
How can you not love this? In Red Urban's latest for Pet Trust, Dogs and cats fight cancer – with a song. Check out the homepage on pettrust.ca, there are dogs manning the phones, waiting for your calls. Super cute.
While animal cancer is an increasingly prevalent disease amongst dogs and cats, it is a frequently overlooked cause. In fact, although 1 in 4 dogs and 1 in 8 cats currently die from cancer, the awareness of pet cancer is extremely low. Until now, that is. Pet Trust, Canada's first charitable fund dedicated to cancer cure and prevention in dogs and cats, is raising awareness, and donations, with a "We Are the World"-style song and video featuring an entirely canine cast. And one cat.
The video is directed by Untitled Films' Curtis Wehrfritz.
Read more.
Posted November 12, 2013

SourceEcreative is presenting Presents tonight at the Revue Cinema in Roncesvalles. Doors open at 6:30, the screening starts at 7 and it's licensed. Oh and it's free and there are still about 40 tickets left – get yours here.
"Presents" compiles the very best work submitted to the SourceEcreative archive and includes films and promos from signed as well as unsigned directors. The films come from all corners of the globe – so expect to find some undiscovered gems. A sample of what to expect is packaged above.
The night is hosted by SourceEcreative's Worldwide Editor Jamie Madge, and I'm told that it's in two 30-minute sections with drinks before, in-between and after. "The screenings are rollercoaster rides though moving-image delights designed to inspire your creativity and entertain your socks off," says Jamie. So maybe wear some tight socks.
See you tonight.
Posted October 29, 2013
Walk Off The Earth master a new instrument – a Beetle – in the latest from Red Urban for Volkswagen Canada.
Double Platinum-selling Canadian band, Walk Off The Earth, who are also known for the 150 million views they garnered on YouTube for their "5 Peeps 1 Guitar" cover of the Gotye song, "Somebody That I Used To Know", collaborated with Volkswagen Canada to release a new, interactive music video for their latest single, "Gang of Rhythm." Only instead of all sharing a single guitar, this time they play a Volkswagen Beetle.
The video, directed by Untitled Films' Wendy Morgan, features three different versions of the song, in three different locations, with three different models of The Beetle. The annotation buttons in the video let viewers seamlessly jump between locations and songs, making it a three-in-one interactive experience. Each song version has its own distinct feel, inspired by a different Beetle model. One is a more soulful, acoustic rendition to go with The Super Beetle; another is an instrumental version, featuring soaring, electric guitars, matching The Beetle GSR; and a third pairs musical instruments with real car sounds, recorded and looped from The Beetle Convertible.
Posted October 15, 2013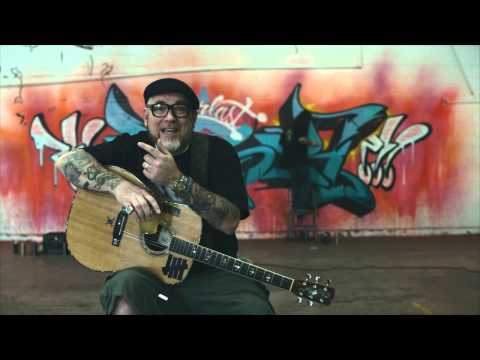 Everlast has released a new acoustic album and the newest video from it features a laid back version of the 1992 hit, Jump Around. Fittingly called "Jump Around?".
It's edited by Arcade's Nick Rondeau and features skateboarders, including Paul Rodriguez, and legendary graffiti artist, RISK. Super cool.
Posted October 15, 2013

Here's some dreamy and steamy new work from director Brian Lee Hughes for San Francisco-based band Fronds via Stink Berlin.
The video was produced by Hughes along with Matt Lambert and Jannis Birsner.
Posted October 8, 2013
I like any sounds that take me back to the 80s (ya, I'm old enough to remember the 80s).
Thanks to director Ville Salminen for sending me his debut music video for Sin Cos Tan's "Limbo". Not only do I like the song, I love that Limbo is really well art directed. Enjoy.
Posted September 10, 2013
Director Diane Martel, Black Dog Films, is back with another amazing video, this time for Franz Ferdinand. Evil Eye is edited by Nick Rondeau at Arcade Edit. Gory good.
Posted September 10, 2013
Toronto-based Revolver Films announces its company re-launch and celebration of its 30th anniversary with a party during the Toronto International Film Festival (TIFF) on September 11.
Revolver, founded by director Don Allan, is credited with being one of the first music video production companies in the world. Revolver went on to produce groundbreaking videos for the likes of Canadian icons such as Rush, The Tragically Hip and Leonard Cohen and later, made its mark internationally with videos for artists such as David Bowie, The White Stripes, and Christina Aguilera.
Revolver is marking three decades in the film industry with a refreshed roster – including Believe Media and music video luminary Floria Sigismondi – and the addition of Executive Producer/Partner Luc Frappier, Executive Producer Richard Cureton and a new focus on producing commercials, long-form content and feature films, in addition to music videos.
Posted August 14, 2013
I've been super busy over the past month working with Rae Ann Fera, former Boards Magazine editor and current contributor to FastCompany's Co.Create, on the next instalment of Packaged Goods – it's tonight at 7pm at TIFF's Bell Lightbox.
Packaged Goods is a bi-monthly screening held at the TIFF Bell Lightbox – the permanent home of the Toronto International Film Festival. Packaged Goods is part of TIFF's year-round public programming and each showcase highlights excellence in advertising, short films and music videos. Tonight's installment focuses on celebrities in ads, music videos and branded content.
Here's a list of just a few of the celebrities featured in the work that will be screened tonight: Audrey Hepburn, Johnny Depp, Christina Hendricks, Natalie Portman, David Beckham, Missy Elliott, Lebron James, Bill Hader, Jake Gyllenhaal, George Clooney, Robert Goulet, Peter Stormare, Tim Burton, Ewen Bremner and Lance Henriksen.
Here's the Facebook event page. I hope to see you there.
Posted August 6, 2013
Jay Z's new performance art film for for the song "Picasso Baby" premiered Friday night August 2nd on HBO.
The video was shot over six hours last month at NYC's Pace Gallery and features some of the biggest names in contemporary art as well as pop culture – Sandra Gering, Marina Abramovic, Marcel Dzama, Fab Five Freddy, Judd Apatow, Jim Jarmusch, Magazeen, Cynthia Rowley, George Condo, Diana Widmaier Picasso, Wale, Allan Cummings and Adam Driver – just to name a few.
The video was directed by Mark Romanek of Anonymous Content, and edited by Paul Martinez, Geoff Hounsell and Nick Rondeau of Arcade Edit.
keep looking »