Advertising
Posted July 30, 2015
I had forgotten all about this great spot until last week when I spent a day working at Untitled Films poking around in their video library. It's from 2004 and it still cracks me up every time I see it.
Today's Throwback Thursday is "Hail Storm" created by TBWA Vancouver for the Vancouver International Film Festival and directed by Mark Gilbert. Mark Gilbert is represented by Untitled Films in Canada and by Station Film in the US.
Enjoy.
Posted July 20, 2015
Wow. Take three and a half minutes out of your day and watch this new spot in AT&T's "It Can Wait" campaign created by BBDO New York.
The gripping film is directed by Frederic Planchon of Anonymous Content. Slow-motion cinematography, shot at 1,000 frames per second, captures the brutal consequences of taking your eyes off the road to glance at your smartphone, even briefly.
The performances are amazing, especially the little boy on the bike.
Great stuff. Important message.
Posted July 17, 2015
In partnership with the World Surf League, Samsung Mobile has created this amazing surf tribute. The film, which features pro surfers Mick Fanning, Gabriel Medina, and Malia Manuel, was created by 72andSunny Amsterdam and directed by Eliot Rausch of Stink.
Surf magazines and blogs are already putting it up for consideration as one of the best surf ads of all time.
Posted July 16, 2015

Today's Throwback Thursday is this sweet 2003 Christmas spot for Japanese retailer Francfranc. "A Small Love Story About Alex and Juliet" was directed by the late great Nagi Noda. Oh how I miss her work.
Sorry about the poor quality – this was the best video file I could find.
Posted July 13, 2015

The Canadian Paralympic Committee has launched its public service announcement (PSA) campaign for the Toronto 2015 Parapan Am Team. The multiplatform campaign entitled: "The Games are Tough; the Athletes are Tougher" is produced by partner agency BBDO Toronto and showcases the excitement of Paralympic sports and the toughness of Canadian para-athletes through their unique and varied stories.
The television PSA takes you through the journey of Calgary para-cyclist Jaye Milley while the radio spots highlight what it takes to be an elite athlete in swimming, rugby and athletics. A large variety of print ads, from full-page magazine to large format billboards, will provide a snapshot of the strong athleticism of our para-athletes.
Posted July 9, 2015


Today's Throwback Thursday is to May 2000 and this spot for Breathe.com. And it comes to you via editor Marc Langley of Rooster Post. I asked Marc to send me a list of a few of his favourite projects from over the years. This beautiful spot was one of them.
Called "In and Out" it was created by Miles Calcraft Briginshaw Duffy and directed by Frederic Planchon of Academy Films. Of course, Marc Langley, now at Rooster Post, edited the spot.
Thanks Marc!
Posted July 8, 2015
I love a simple, clever and entertaining campaign. Deutsch New York has done just that with this trio of 15 second spots for Krylon COVERMAXX Spray Paint. Poor Herb has no idea what's going on.
Harold Einstein directed the campaign and it's edited by Dave Anderson at Arcade Edit.
See the third spot, Old Chair, and full credits here.
Posted July 6, 2015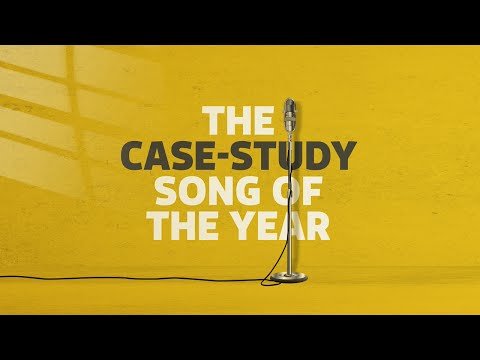 By now we are all too familiar with the advertising case study video. We've seen the good, the bad and the fakery.
Of course a great case study video is nothing without a good music track. Now, for your viewing pleasure, see how Cummins & Partners Australia has solved the endless search for the perfect case study track by creating The Award Show Case Study Song of the Year. My favourite bits are "the case study is like a quiche…" and "clearly Coldplay have thought a lot about the case studies when they've written a lot of those tracks." And the part where they go into the "fake campaign results" section.
Thanks to Sean Cummins for the tip. Enjoy.
Posted June 30, 2015

A shout out to my friends at Arcade Edit on contributing to some great Cannes Lion-winning work. Arcade's talented editors worked on BBDO NY's Snickers "Brady Bunch" and Translation's Value City Furniture which both picked up Silver Lions in Film. "Left Swipe Dat" for Truth, via 72andsunny, won Bronze in Branded Content. And W+K's Jeff Bridges Sleeping Tapes for Squarespace (LOVE) won a Silver in Cyber.
You can watch all the work here.
Congratulations to everyone who worked on these spots.
Posted June 29, 2015


In its second year, the Health Lions are held in Cannes before the Cannes Lions. A big congratulations goes out to the team at Toronto's RMW Music for the two radio spots they worked on for DDB Canada's K-Y campaign for Johnson & Johnson. "Man Boobs" and "Bald Spot," posted below, picked up a Silver Campaign Lion in Radio – Use of Music/Sound Design category. The seductive slow jams featured in the campaign were all produced by Dustin Anstey and sound engineered by Kyle Gudmunson and Ryan Chalmers.
And here's a timely win – FCB Toronto and FCB Chicago took home the only Silver Lion for Canada in the Charities, Fundraising, Appeals, Non-Profit Organizations, Public Health & Safety and Public Awareness Messages sub-category for the beautifully crafted and heartfelt "Nobody's Memories" spot for PFLG – posted above. RMW's Steve MacKinnon composed the music, Ryan Chalmers handled the sound engineering and Ted Rosnick produced.
keep looking »