Advertising
Posted August 24, 2015
Rethink Breast Cancer has taken the hotties from their Your Man Reminder app to Tinder to remind women to give themselves some TLC. That is some Touch, Look and Check.
The latest stunt from the non-profit, created by Toronto's john st., aims to reach a younger generation about the importance of breast awareness by using hot guys (and a gal) to catch their attention. In 2012, Rethink launched the Your Man Reminder app (posted below), which has since been downloaded over 300,000 times, and its launch video has been viewed 7.2 million times.
Women who match with one of the guys on Tinder got a friendly reminder to download the newly upgraded Your Man Reminder app and take some time out of their day for some TLC. In just one week, the campaign has reached over 2000 young women with a unique and personal message. Turns out swiping left can be good for your health.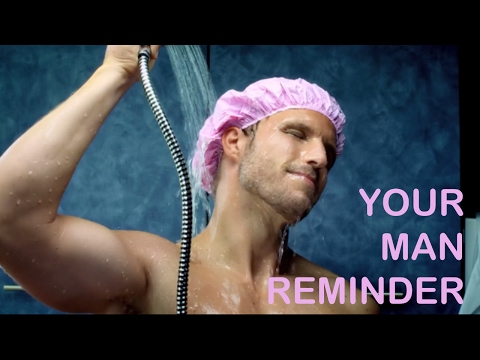 Posted August 21, 2015

Man, those folks at John Lewis have done it again. And this time to Elton John. Amazing.
"Tiny Dancer" is directed by the always great Dougal Wilson and created by adam&eve DDB.
Happy Friday. Enjoy. Where's my tutu?
Posted August 18, 2015

Wow, well this is super visual and you'll never un-see it.
This spot for Dude Wipes stars Rob Dyrdek and Christopher Boykin as the biggest shits you'll ever see and fittingly named "Plip" and "Plop." The duo are apparently on some MTV show called Rob & Big.
UPDATE – via Adweek – Sadly the "commercial" has been taken down. A lawyer for Rob Dyrdek says it was made for Dyrdek's MTV show Fantasy Factory and was never intended to be a Dude Wipes ad campaign. Dude Wipes uploaded the video to YouTube and Facebook without permission, the lawyer says, and have since taken the content down. BOO!
Posted August 17, 2015

A little yodelling, a bit of falsetto and some good old barbershop quartet, these are just some of the many musical easter eggs that reward people for visiting SNDWRX's brand new interactive website. There they can play a sound-based trivia game or create their own musical compositions. It's a virtual musical playground with a gameshow-like feel that mixes sonic samples with audio-inspired animations whilst putting music production at users' fingertips.
An ode to the world of growing sound design technology, video games and the kinds of true-skool samplers and drum machines the SNDWRX team still loves to play with, the website was developed to bring the joys of music production to the masses. Its launch also coincides with the opening of SNDWRX's brand new studios in Toronto's Kensington Market.
To showcase the new website, SNDWRX recently took to the streets in front of their Kensington Market​ digs to give people a chance to make their own music, play the trivia game, and win some prizes. View a video showcasing how the site works above. Read more.
Posted August 13, 2015
Throwback Thursday to November 2008 and this piece of branded content for Diesel. "Pete the Meat Puppet" is a sing-a-long-tale from life in the fast lane. The film was created by NYC-based Legs, via Stockholm-based creative shop Farfar, and was part of a series of films launched on the brand's website.
Enjoy.
Posted August 10, 2015
Vancouver-based visual effects shop The Embassy teamed up with Interrogate director Misko Iho to deliver this effects packed spot for Disney through TBWA\Chiat\Day LA. Launching Disney's new line of wearable tech toys, the spot mixes familiar heroes and action propelled by the power of imagination.
The Embassy has also done VFX on notable feature films including the both the Ironman and The Hunger Games franchises, Ender's Game, and District 9.
Posted August 7, 2015

This spot broke in the US earlier this year, but it just recently started airing on Canadian TV.
As I watch most of my television on demand I am able to fast forward through commercials, which I do 99% of the time. The 1% is when something is able to catch my eye and spark my interest within 1-5 seconds. Which is exactly what this Subaru spot did. I liked it so much that I actually watched it twice while watching last week's episode of Humans. So good – both the show and the commercial.
Agency is Carmichael Lynch and it's directed by Lance Acord of Park Pictures.
Posted July 30, 2015
I had forgotten all about this great spot until last week when I spent a day working at Untitled Films poking around in their video library. It's from 2004 and it still cracks me up every time I see it.
Today's Throwback Thursday is "Hail Storm" created by TBWA Vancouver for the Vancouver International Film Festival and directed by Mark Gilbert. Mark Gilbert is represented by Untitled Films in Canada and by Station Film in the US.
Enjoy.
Posted July 20, 2015
Wow. Take three and a half minutes out of your day and watch this new spot in AT&T's "It Can Wait" campaign created by BBDO New York.
The gripping film is directed by Frederic Planchon of Anonymous Content. Slow-motion cinematography, shot at 1,000 frames per second, captures the brutal consequences of taking your eyes off the road to glance at your smartphone, even briefly.
The performances are amazing, especially the little boy on the bike.
Great stuff. Important message.
Posted July 17, 2015
In partnership with the World Surf League, Samsung Mobile has created this amazing surf tribute. The film, which features pro surfers Mick Fanning, Gabriel Medina, and Malia Manuel, was created by 72andSunny Amsterdam and directed by Eliot Rausch of Stink.
Surf magazines and blogs are already putting it up for consideration as one of the best surf ads of all time.
keep looking »