Archive February, 2012
Posted February 29, 2012

I'm loving Boston-based Hill Holliday's new identity package, especially the "Hello. Is it me you're looking for?" iPhone case.
Scooped from Ads of the World.
Posted February 28, 2012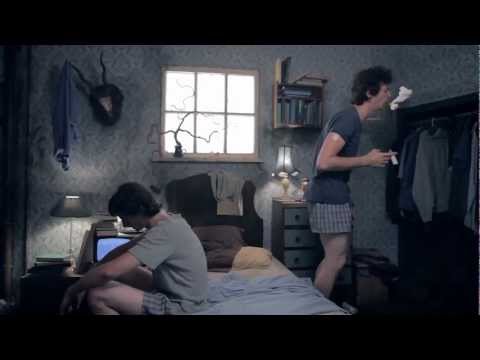 Oh Yeah Wow has just finished this clever music video for Gotye which is a mix of live action and stop motion with almost no CG. The shoot was intense, that Oh Yeah Wow says they slept in the bed and ate out of the refrigerator during production.
Scooped from Motionographer.
Posted February 27, 2012

Psyop's latest for MiO, the new liquid water enhancer, via Taxi, New York, features some amazing (as always) character design. I also love that the main character, Cheetah, is wearing a Psyop jacket (I have one too – mine is black with read. It's amazing).
This is the first in a series of spots for the new product.
Posted February 27, 2012

Holiday Films' directorial duo Adam & Dave are working on season two of HBO Canada's Funny as Hell, a weekly program that features some of the funniest and most fearless comedians working today. The two are the Creative Producers on the show and also direct and write all the sketches with the star Jon Dore.
This past Friday night was the season two premiere, and this hilarious sketch, H.O.R.S.E., was part of the show. LOVE IT.
Watch it & read more on the Holiday Films blog.
Posted February 23, 2012

In their new Curiously Strong Facts campaign, via Energy BBDO, Blacklist's Wizz and Flying V have created a trio of charming and clever spots which retell history infused with little-known Altoids factoids.
Posted February 23, 2012

I love the film, "Fan Club", that is currently playing when you go to Love Magazine.
It was launched on Valentine's Day, in partnership with Louis Vuitton, and it's directed by Ruth Hogben and features accessories from the spring 2012 Louis Vuitton collection in a retro haze of pink, vintage LV swim caps, and handmade feather fans. Love.
Posted February 23, 2012

Jon Rafman's Tumblr blog, The Nine Eyes of Google Street View, is a photo project documenting some of the stranger photos captured by Google. Many are quite beautiful, some are disturbing, and as you'd expect, some are just very odd. But all are unique.
I've posted some of my favs here.
Posted February 22, 2012
In his latest music video for the iconic Gonjasufi, Honey Badger director Neil Krug creates a desert wasteland in Downtown Los Angeles.
The video for "The Blame", a soothing yet melancholy track, features Gonjasufi wandering in solitude amidst a post-apocalyptic Los Angeles. In conceptualizing the video, Krug recognized the song's dark undertones and chose to enhance it with desolate imagery to bring it to life.
Having always had a fascination with the 1970s films The Omega Man and Soylent Green, Krug went back to these films for reference to prior to filming and selected quintessential Los Angeles locations that would be easily recognizable. A major challenge in the production of the video was creating the illusion of a deserted city within a congested urban metropolis.
Posted February 22, 2012

This is not officially called the Unknown Pleasures typeface, but it should be.
This monotype typeface created by Synoptic Office, where the height of the letterforms is determined by how often a letter is used. As described on Synoptic's website, "this typeface maps the rhythmic ebb and flow of English."
Scooped from (fittingly) Peter Saville Associates on Facebook - via Typetoken.
Posted February 21, 2012

In a single shot, photographer James Appleton has captured two of nature's most spectacular sights – the northern lights and an erupting volcano in Iceland. Beautiful. See more.
Scooped from Notcot.
keep looking »