Archive February, 2013
Posted February 27, 2013
For those of you who love beer, you probably knew this already.
Toronto-based creative shop Open has launched their first campaign for Bier Markt, Toronto's premier European-inspired bier and food experience, with the tagline Bier is Beautiful.
Posted February 19, 2013

The compelling new campaign for the BC Children's Hospital Foundation, via and DARE Vancouver and OPC FamilyStyle director Miles Jay, is all about space – or lack of it.
The BC Children's Hospital does not have enough space to perform the level of care required on an ongoing basis. To illustrate the issue, the DARE campaign uses optical illusions to visually bring the space shortage to life for potential donors.
Posted February 19, 2013
The next installation of Packaged Goods is on tomorrow night at TIFF's Bell Lightbox. This showcase, curated by Rae Ann Fera and presented in partnership with Stash Media, explores some of the most evocative, entertaining and enlightening animated ads, music videos and short films. Psyop's Gerald Ding, one of their creative directors, will be in attendance and will participate in an onstage discussion after the screening.
The still above is from Toronto-based Crush's Emily's Story, which will be screened.  The full line-up is here. You should go.
Posted February 13, 2013


Experience your life flashing in front of your eyes through the POV of where you spend 1/3 of it – in bed.
That's the concept from Los Angeles-based creative shop Arcana Academy's latest for Sealy. Yep, it's a mattress commercial. And it's a good one.
Posted February 12, 2013

Glossy worked with Toronto-based Zulu Alpha Kilo on the Audi quattro® Experience - a one-of-a-kind interactive installation that put participants in the driver's seat of a custom-made 1:32 scale Audi A4 quattro® slot car for the chance to test their on-track skills.
Using the world's first iPad enabled slot car controller, visitors to the installation were able to take their A4 for a wild test-drive around hairpin turns, down long highway straightaways and through icy mountain passes.
The campaign was supported by a video showcasing the project as well as the documentary film, Painting Coconuts directed by Tamir Moscovici (Urban Outlaw) of Industry Films, which captures the entire build through the eyes of track maker David Beattie of Slot Mods USA. Read more on this project.
Here's some of the traction on the campaign: Engadget, TechCrunch, Communication Arts, Fast Company's Co.Create, The Awesomer, Devour, Marketing, Creativity, Applied Arts and Media Post's Creative Media Blog.
Posted February 11, 2013
Every year the (Canadian) Cassies Awards recognizes the advertising that's shown proven business results. (If you want to call it the Canadian Effies, we're cool with that). No surprise then, that it's the one award show that clients really care about. Even if no one else does.
Toronto-based agency john st., and director Aleysa Young of Untitled Films, created three promotional films for The Cassies. My favourite is the "Teenager" spot above.
Posted February 11, 2013
A new production company, Brink Studio, has opened in Toronto.
Brink Studio, a new production house with its eye squarely on the bleeding edge of creativity, has opened for business in Toronto. Led by president and founder Irfan Saleemi (centre), executive producer Richard Cureton (left) and director of sales Jaime Randle (right), Brink is a full-service studio with a roster of directing talent that specializes in executing live action, animation and interactive projects from pre-production to post.
Posted February 11, 2013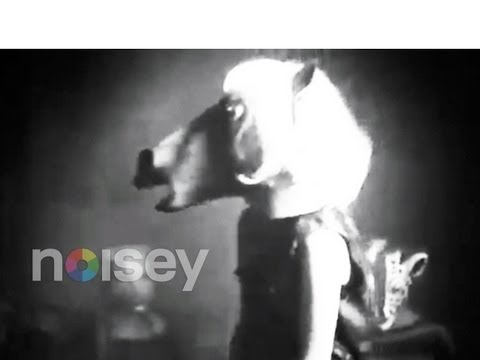 Universal recently reached out to Castle Face Records for them to get their artists to cover all of the Velvet Underground's songs. They formed a super group, Here Comes the Here Comes, to cover the Velvet Underground & Nico's "I'll Be Your Mirror."
The song is produced by Matt Jones and he brought together Mark Tester, from Burnt Ones, and Adam Finken, from Blasted Canyons, and Brigid Dawson, from Thee Oh Sees. Reading the lyrics, he thought it would be cool to have a kid sing it and director Brian Lee Hughes' 13-year old daughter Cisca was in LA visiting from Copenhagen.
Cisca recorded a song with Jones a couple years ago, under the name Here Comes The Here Comes, and the name stuck for this band too. The vid was shot in Denmark, directed by Hughes, and featured Cisca and her crew of friends with some masks and a smoke machine and a strobe light in a mansion.
Beautiful.
Posted February 6, 2013
This is dark, creepy and pretty awesome. It's a short film, shot entirely on the Nikon D800, and it premiered at Sundance. Oh, I should warn you that you may find it disturbing.
Broke Night was commission by Nikon via McCann New York and it's directed by Guillermo Arriaga, the award-winning writer of Babel, 21 Grams and Amores Perros. The cinematographer is two-time Academy award-winning cinematographer Janusz Kaminski (Saving Private Ryan and Schindler's List), who was also the DP on The Diving Bell and the Butterfly and Lincoln. What they have created is a story as frightening as it is drop dead beautiful. It's edited by Paul Martinez at Arcade Edit.
Posted February 5, 2013
What will your last 10 years look like? In a print, television and online campaign launched this week, Toronto agency Lowe Roche and the Heart and Stroke Foundation are urging Canadians to take action and "Make Health Last".
The visual narrative in the thought-provoking 60-second broadcast spot juxtaposes imagery of a healthy older man's life to that of an unhealthy one. At makehealthlast.ca users can learn how to change your future and grow old with vitality.