Monday, January 19, 2015
I love this idea. Toronto-based editorial shop Panic & Bob is decorating its walls with instagram pics. There's about 40 pics up already and as they have a lot of walls to fill, all you have to do to get in on the action is tag a pic with #panicandbob on Instagram.
It's a super fun project that was the idea of Partner and Editor Michelle Czukar. Thanks to Partner and Editor Matthew Kett for sending me pics of the pics.
Monday, January 19, 2015
Netdiver, one of the first online design portals, has rebooted its Best of the Year round-up after a 5 year hiatus.
For the BOTY feature they revisit the past year of design news and choose projects based on originality, quality and inspirational value.
View the selected projects here.
Thanks to Carole Guevin for sending it my way.
Friday, January 16, 2015
Here's a well-executed and thought-provoking PSA from Children of the Street Society's Predator Watch and #ParentProject campaign advising parents to talk to their children about the dangers of online predators.
The spot was created by Cossette, Vancouver. It is very similar to this 2004 spot out of France, created by Saatchi & Saatchi, Paris and directed by Toroto-based Yael Staav.
Both spots simply and cleverly portray frightening issues.
Both spots simply and cleverly portray frightening issues. Full credits for the Children of the Street Society spot are posted here.
Thursday, January 15, 2015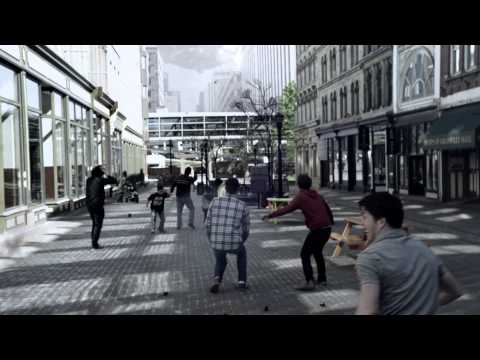 Although I'm not a fan of mock reality Sci-Fi style of this spot, it's been done a number of times before – I think starting with this 2003 award-winning spot, I do like the message and the amount of work that I can see went into its creation.
According to the info for the spot, "in 2014 the use of the K-Cup reached unparalleled levels. Output became so high that there was enough discarded K-Cups to circle the earth 10.5 times." That's a lot.
Brita has been using the same statistical strategy for a couple years now – a spot released in 2013 says that plastic bottles thrown away could go around the world 190 times.
Kill the K-Cup was created and directed by Charles Wahl of Egg Studios in partnership with Social Bean Coffee Co - both are based in Halifax where the spot was shot. The two also launched a website, killthekcup.org, that features relevant articles and a Change.org petition that urges Keurig to make its pods recyclable. Keurig has said all of its K-Cups will be recyclable by 2020, but the petition says that's not soon enough.
Wednesday, January 14, 2015
What is hairy, fragile and requires excellent care? Your (fur) balls.
Via Toronto-based DentsuBos, Testicular Cancer Canada made this cheekycheck-your-balls-regularly tutorial with guinea pigs to keep it safe for work. Nice job.
Scooped from Osocio's fancy new site, where full credits are listed.
Tuesday, January 13, 2015
SNDWRX, a Toronto-based audio production studio, has opened their new studios in Kensington Market and is having a big studio warming party this Thursday night. It should be a great time and they've created the videos above and below to promote their new digs and the bash..
Helmed by Didier Tovel, SNDWRX features an exclusive network of internationally acclaimed artists, sound designers, composers, voice directors, engineers, producers and music supervisors. For clients, they come together to form specialized teams in order to craft authentic sounds, giving them a wide variety of talent and the ability to take on multiple projects across multiple disciplines, while simultaneously focusing on their core strength, audio.
View the party invite here or on the Facebook event page.
Monday, January 12, 2015
Documentary Directors Philip Knowlton and JP Bouchard merge to become Knowlton Bouchard.
Brooklyn-based Greenpoint Pictures is pleased to announce that documentary directors Philip Knowlton and JP Bouchard have partnered to form the directing duo now known as Knowlton Bouchard. Independently, each director has been a long-time member of the Greenpoint Pictures family.
In 2014, Bouchard and Knowlton were both commissioned to direct films for Beck's Live Beyond Labels series with Vice. While they were not yet an official duo, coming together for that project was the initial spark that would ultimately motivate them to join forces.
Since creating Knowlton Bouchard, the talented pair have been busy on a number of notable projects, including "Taste of Home," a heart-warming project for JetBlue, via Mullen, that brought a special surprise to Dominican families living in the Washington Heights neighborhood of Manhattan. Prior to that, they collaborated on three of Ford's "Go Further" films with Team Detroit, depicting real people who go the extra mile to help others or rise above challenges.
View Knowlton Bouchard's reel. Read more.
Monday, January 12, 2015
Arcade Edit is pleased to announce that editor Brad Waskewich has joined the team. He will be based out of Arcade's New York office, but his talents will be available to clients across the U.S.
Waskewich is an award-winning editor who has a definitive talent for adding a cinematic scope to the material on which he works. He's collaborated with many acclaimed directors such as David Fincher, Mark Romanek, Noam Murro, Jake Scott, Peter Berg, Cary Fukunaga and Nabil, and boasts a portfolio that consists of work for global mega-brands including Nike, Reebok, Beats, Ford, Chevy, Apple, Budweiser, Miller and Google.
Waskewich won the AICP editing award for the Nike spot "FCUSA." He was also nominated for a Primetime Emmy for his work on the opening title sequence of the HBO show "Rome." Waskewich was the editor behind Jameson "Fire," which was honored at the Clio Awards, and he also edited the Cannes Lion-winning AARP "Song and Dance."
Watch Brad Waskewich's reel. Read more.
Friday, January 9, 2015
The latest for Toronto Crime Stoppers, via DDB Canada and directed by Partners Film's Michael Downing, is a mix of Breaking Bad and Jamie Oliver – And I really like it.
The spot is part of the first public service campaign for Toronto Crime Stoppers, and it provokes recreational or party drug users to become more vigilant about MDMA, popularly known as ecstasy or Molly. Warning consumers, "Molly is not the drug you think it is," the new awareness-building initiative features a video, parodying a cooking show, where a drug lab "cook" shares his recipe for Molly laced with methamphetamine and bath salts.
Although the spot is entertaining, this issue is no laughing matter – this past summer, two people died as a result of party drugs at the VELD Music Festival.
Thursday, January 8, 2015
Looking for some procrastination for 2015? Spend some time to take a look at what Fubiz considers to be the best music videos of 2014.
It's a great round up of tunes and eye candy, and I'm happy to see work from my friends over at Common Good in the mix – they created the sexy and stylish "Her" for Majid Jordan.
« go back
—
keep looking »