Thursday, September 17, 2015
Today's Throwback Thursday is to 2007 and this seamless journey through denim history. "Dangerous Liaison" was created by BBH London for Levi's, and directed by Ringan Ledwidge of Rattling Stick.
Tuesday, September 15, 2015

Here's something for the Sci-Fi fan. The Royal Mail is releasing Star Wars-themed stamps on October 20th. The collection, illustrated by British artist Malcolm Tween, features 12 characters and six vehicles from the franchise.
Live in the UK? You can pre-order here.
Monday, September 14, 2015


Here's a cute little animation by Buenos Aires-based design and animation studio Ronda that teaches the principles of colour combination.
"CMYK" is directed by Fernán Graziano. Scooped from Motionographer.
Wednesday, September 9, 2015

How would you like a new wearable that counts down the days you have left in this world?
Toronto-based advertising agency UNION and Mount Pleasant Group are introducing a revolutionary new wearable to the world, QUITBIT.
QUITBIT is designed to take the wearer's lifestyle habits into account and use that information to calculate how much time they have remaining in their life. Once the user's time is almost up, it sends a notification alerting the person that it is time to start preparing for their final goodbye.
Of course, the device isn't real and this technology doesn't actually exist, but the idea serves to help keep funeral planning top of mind for all demographics, even the younger crowd who may not have ever thought about it.
Tuesday, September 8, 2015

BBDO New York has launched a great new 3-spot campaign for GE full of professional self-deprecation. As someone who knows that what I do for a living is completely incomprehensible to anyone who does not work in advertising, I love this work.
Tim Godsall of Anonymous Content directed the campaign and it's edited by Greg Scruton at Arcade Edit.
Two of the three spots are here. See the third and full credits.

Thursday, September 3, 2015
This week's Throwback Thursday is to 2004 and this campaign for the Canadian Film Centre's Worldwide Short Film Festival created by Taxi Toronto, directed by Tim Godsall and produced by Untitled Films.
As the campaign is 11 years old, it was hard to find links online to the spots. Watch Good Cop/Bad Cop above. Creativity has the rest of them posted. The entire campaign is hilarious. Here are links to watch the rest – Love Scene, Special Effects, Establishing a Character, Enter/Exit a Scene. They are all great. Watch them.
Tim is now with OPC in Canada and Anonymous Content in the US. He also has his first feature film, Len and Company, making its north american premiere at TIFF. Very exciting.
Thursday, August 27, 2015

Here's something lovely and yummy from the "why didn't I think of this?" files.
Mother New York art director Hedvig A. Kushner makes a lot of smoothies and noticed it kinda works like mixing paint. Add a strawberry, get a hot pink hue, add some spinach and get a subtle green.
Pantone Smoothies is an artsy little project seeking an answer to the question: is it possible to create tasty smoothies in any Pantone colour?
"The process is pretty simple," says Kushner. "I buy colored paper from a local art store, match it to a Pantone swatch, and make the smoothie to match whatever color the swatch is." She and photographer Mike Kushner photograph the fruit laying down and smoothies using the colored paper as a backdrop, in a light box in the basement of Mother's NY offices.
Check out the project on pantonesmoothies.com, I love how the images roll over and include recipes and you can submit your own too, or on Instagram.
Thanks to Hedvig for reaching out. Love it.
Thursday, August 27, 2015

Today's Throwback Thursday is to 2005 and this stunt for 3M created by Rethink in Vancouver. They filled the panes of the glass in a bus shelter with money and coated the glass with 3M Scotchshield, a see-through film that you can apply to glass which makes it near bulletproof.
"It was never intended that people could have the money if they could break in, but people assumed that and went pretty nuts on the ad." Says the copywriter on the campaign, Bryan Collins, who is now the Founder and Executive Creative Director at One Twenty Three West. "Some huge guys from a construction site came over with heavy machinery and we told them it was only about $220 in real money. They said 'good enough.' We had to threaten to call the cops to get them away."
Read more and see full credits.
Monday, August 24, 2015
Rethink Breast Cancer has taken the hotties from their Your Man Reminder app to Tinder to remind women to give themselves some TLC. That is some Touch, Look and Check.
The latest stunt from the non-profit, created by Toronto's john st., aims to reach a younger generation about the importance of breast awareness by using hot guys (and a gal) to catch their attention. In 2012, Rethink launched the Your Man Reminder app (posted below), which has since been downloaded over 300,000 times, and its launch video has been viewed 7.2 million times.
Women who match with one of the guys on Tinder got a friendly reminder to download the newly upgraded Your Man Reminder app and take some time out of their day for some TLC. In just one week, the campaign has reached over 2000 young women with a unique and personal message. Turns out swiping left can be good for your health.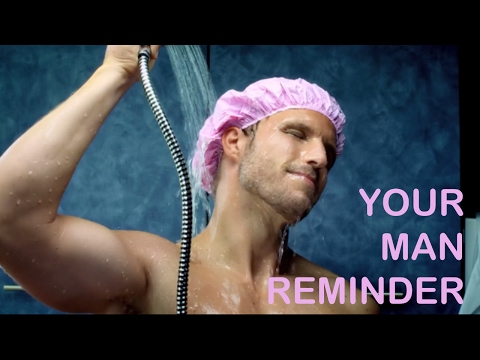 Friday, August 21, 2015

Man, those folks at John Lewis have done it again. And this time to Elton John. Amazing.
"Tiny Dancer" is directed by the always great Dougal Wilson and created by adam&eve DDB.
Happy Friday. Enjoy. Where's my tutu?
« go back
—
keep looking »