Thursday, August 4, 2016

Squeak E Clean Productions is pleased to announce some exciting new changes to its management team that have made it bigger and bolder than ever before.
Amy Crilly, formerly Senior Producer, has been elevated to Executive Producer. She will be responsible for driving future growth for Squeak E Clean by expanding opportunities for the company and recruiting both creative and production talent. Crilly, a music industry veteran, brings close to a decade of production experience to the role. She's overseen music on a number of award-winning campaigns, including "Swagger Wagon" for Toyota, "Hum" for Prius and "Gas Powered Everything" for Nissan. Her credits also include work for major brands, such as Apple, Samsung, Lexus, Lincoln, McDonald's and Target.
Rob Barbato, formerly Associate Creative Director, has been promoted to the role of West Coast Creative Director. He will help Squeak E Clean galvanize the way it works with its clients by positioning the studio as more of a partner in creative collaborations right from the start of a project, while also making more authentic, original music with bands and artists to have on reserve. Barbato is a celebrated award-winning composer, producer and musician. Barbato garnered an Emmy and Silver Lion at Cannes for his work arranging "Beautiful Dreamer" for Canon's "Inspired" spot via Grey New York, and has a commercial portfolio that also includes original compositions for brands such as Facebook, Honda, Target and Under Armour.
Crilly and Barbato's appointments are the latest exciting developments in what's proving to be another banner year for Sqeak E Clean. The studio is coming off a very successful performance at the Cannes Lions where it was awarded three Lions for its original compositor for Adidas called "Your Future Is Not Mine," which was composed by Squeak E Clean Creative Director and veteran composer Justin Hori. The score won two Golds, one for Best Use of Original Music, and another for Best Music/Brand Partnership in conjunction with Johannes Leonardo. It also won a Bronze for for Music Video – Brand and/or Product Integration (Entertainment for Music). View it below.
View a reel of Squeak E Clean's latest and greatest work. Read more.
Tuesday, August 2, 2016

Vapor RMW is pleased to announce that renowned voice director Karen Goora has joined the audio house. A highly respected voice director in Toronto, and with over 15 years of experience under her belt, the addition of Goora significantly bolsters Vapor RMW's offerings.
Goora spent over a decade at Toronto-based audio house, Grayson Matthews, as well as a significant stint at Disney. She has collaborated with dozens of celebrities, from Meryl Streep to Miley Cyrus to Simpsons voice veteran Nancy Cartwright, with whom she worked to develop a whole new voice for her role of Darth on the Disney show The Replacements. Her work has also won at numerous advertising award shows, and won Emmy, Genie, Gemini and an Academy Award.
The addition of Goora to the Vapor RMW team follows a period of change for the audio house wherein it acquired RMW Music on July 28. It now offers clients access to studios in both the East and West ends of Toronto. It also has a studio in Vancouver and will soon be opening a studio in Montreal.
Monday, July 25, 2016
Toronto-based creative company The Garden Continues to grow, with 3 new hires.
Mike Kovacs joins as Project Cultivator, a unique role that combines client service with project management and production. Kovacs brings with him more than 6 years of account service experience and was most recently at JP/TBWA, where he helped lead the Nissan Infinity and Petro Canada accounts.
Sarah Philips has joined as the company's newest Strategist. Philips has been freelancing with The Garden since last June. Prior to that she has held roles as a Journalism Professor at Humber College and account service positions at McLaren McCann and Zulu Alpha Kilo, where she helped manage the Colgate-Palmolive, WIND Mobile, Indie88 and Jack Astor's accounts.
Adriana Mahalean joins as Designer. Previously at Goods and Services, Adriana has applied her beautiful aesthetic to a number of brands, including LCBO, Fairmont Hotels & Resorts, Herman Miller and Sun Life Financial.
Tuesday, July 19, 2016
GREY Canada adds strategic muscle to its award-winning creative offering as Ian Wentworth joins as Vice President Planning and Innovation.
Westworth will lead strategic planning for GREY's Toronto and Vancouver offices, all of its clients, its research practice, data team and core planning group. Westworth, who joins GREY from JWT, brings more than 18 years of experience to the role having worked at world-class advertising agencies including BBDO, Grip Limited, Leo Burnett and BBH New York.
Westworth joins a strong GREY Canada executive team that was recently renewed by several promotions to prepare the agency for sustained growth and creative excellence. Darlene Remlinger, was appointed President of GREY Toronto, and Joel Arbez and James Ansley are GREY Canada's newest Co-Executive Creative Directors. The four senior leads join Leah Power, Chief Operating Officer and Paul Curtin, VP Business Development in rounding out the agency's Toronto-based executive team.
Friday, July 15, 2016
The World's Biggest BBQ Comes to Canada
After 10 years, Johnsonville's Big Taste Grill is back in Canada at the Honda Indy Toronto and will be donating funds to Make-A-Wish® Canada
Johnsonville's Big Taste Grill will be joining NASCAR Canada at the Honda Indy Toronto from July 15 to 17 at Exhibition Place, the first time it's been in Canada in 10 years. Not only will NASCAR fans have the opportunity to enjoy delicious Johnsonville Bratwurst sausages cooked on the grill, but they'll also have the opportunity to meet Ontario-born NASCAR star Adam Martin, who will be racing at the Indy in the Pinty's Grand Prix on Saturday, July 16.
The Pinty's Grand Prix is the highest-profile stop of the NASCAR Pinty's Series, and will be Saturday's feature race at the Honda Indy in Toronto. The race marks the first time NASCAR's been at the Indy, Ontario's largest annual sporting event, since 2011. The Big Taste Grill will have a huge presence throughout the Honda Indy. It will occupy a 100 x 80 foot spot prominently positioned in Thunder Alley, right by Turn 11 on the 1.75 mile-long street circuit, where it will grill up Johnsonville's delicious Bratwurst Sausages for race fans all weekend long. With 40 square feet of grilling space and the capability to cook 750 brats at a time, Johnsonville's goal is to sell between 1,200 and 1,500 Bratwurst Sausages an hour (over 20 sausages per minute), with $1 from each sale going to Make-A-Wish® Canada and a minimum of $10,000 being donated to the charity. Make-A-Wish® Canada volunteers will be on-site grilling up brats and serving customers as they take in the sites, sounds and tastes of race day.
Wednesday, July 13, 2016
Here's an amazing project.
Rethink has partnered with Starlight Children's Foundation Canada and some top designers to create some super cool hospital gowns for teens. Not only have they created some amazing designs that teens will want to wear, but they are also helping them feel more like themselves while in hospital.
At wardrobes.starlightcanada.org you can donate to help raise funds to make more gowns, or if you a designer or someone who can sew, you can download a PDF to create a gown for the cause.
The the project video is directed by Andrew Norton of Untitled Films and edited by Matthew Kett at School Editing.
Tuesday, July 5, 2016
Here's a beautiful visually-driven new campaign for Ontario Tourism Marketing Partnership Corporation, created by FCB Toronto.
I'm lucky enough to live in this beautiful Canadian province, but many of these places I have not seen. It is definitely hitting its mark by making me want to get out and see and experience more of this great place where I live.
Where Am I? was shot over nine months at the following Ontario locations: Niagara region, Hamilton, Orangeville, Prince Edward County, Picton, Ottawa, Eganville, Muskoka, Toronto, Thunder Bay, Sault Ste. Marie, Huntsville, Lake Superior North Shore Lake Superior Provincial Park, Dorion, Sleeping Giant Provincial Park, and Northwest Ontario.
The two films were directed by Andrew Cividino of OPC, and edited by Marc Langley, of Rooster Post Production. Both point to ontariotravel.net
Tuesday, July 5, 2016
Vapor Music is pleased to announce that it is acquiring RMW Music. Moving forward under the name Vapor RMW, the addition of RMW allows Vapor to reinvent itself and expand in the post audio space. With the extra bandwidth, not only will Vapor be well-positioned to propel the significant growth it's experienced of late, but also to galvanize its client experience.
Having reached a point in its evolution where it needed to increase the amount of workflow it could handle, the acquisition of RMW was a perfect fit for Vapor and will help the studio to achieve its strategic growth goals quickly and efficiently. The addition of RMW's facilities will allow Vapor to better cater to simultaneous sessions across the board, a need that increasingly began to present itself as the studio continued on its upward growth trajectory. The acquisition also reinforces Vapor's creative culture, including the gaming and record label side of its business. The extra studio space will help with Vapor's Fifth Kid Records label in particular, improving its capacity for providing a creative outlet and home for its recording artists.
A reel of notable and award-winning work from Vapor Music and RMW Music is posted above.
Thursday, June 30, 2016
Ready for the ultimate brain-freeze?

Creative & strategy agency Giants & Gentlemen have released a zany new multi-media campaign for Mac's Convenience Stores and Circle K's Froster beverages – the fun, flavourful, slush-based drinks, which are synonymous with summer in Canada.

The campaign, "You Are What You Froster" – drives to a Snapchat filter that lets you "Frosterize" your face. The first filter is live today, Thursday June 30.

The Snapchat filters enable users to alter their face digitally to match one of the flavours available, resulting in personalized, sharable content. The first Snapchat Filter gives them wildly moving banana peel hair and bright yellow eyes, complete with salsa music for the hair to groove to. The second filter, while still under wraps, will have some explosive fun involved. I shared my Frosterized-face on Instagram.

Read more and see the more images.
Tuesday, June 14, 2016
Grey Canada has been doing great on-going work for Ovarian Cancer Canada with its "Ladyballs" campaign. By the time ovarian cancer is detected, it's often too late to save a woman's life. With no screening test, vague symptoms and low awareness and understanding, it's often called "the silent killer." Ovaries are hard to talk about and aren't top of mind for women from a self-awareness standpoint because, unlike men, women can't see, touch or feel their gonads.

This campaign gives women a reminder — they have balls too. Ladyballs.

The "Ladyballs" campaign launched with film – in cinema, TV (see spot below), digital pre-roll and social video. Print and radio executions featuring survivors and their "Ladyballs" stories of courage soon followed.

Next, a "Show us your Ladyballs" user-generated content activation was deployed in social media, as well as digital and search advertising. Community outreach and Digital PR efforts brought "Ladyballs" into online conversation during high-profile events like the Oscars.

Pictured below is a group of women, one with "Ladyballs" tattooed on her arm, with Canadian Prime Minister, Justin Trudeau. They took the Ladyballs charge to Parliament Hill to discuss active change for the outcome of women with ovarian cancer, as there's been a lack of federal health engagement on the disease, and it was time their voices were heard.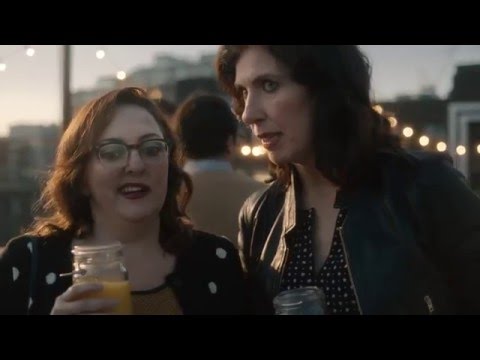 « go back — keep looking »