Wednesday, November 26, 2014
Old Spice and W+K Portland have again partnered with Seattle-based music house Walker for Dadsong – the follow-up to last year's award-winning Momsong.
Walker owner and Executive Producer Sara Matarazzo brought on Bret McKenzie and Mickey Petralia from Flight of the Conchords on board to compose the music – Walker has worked with the duo on several ads over the years. The result is this great musically driven spot that's influenced by classic rock ballads and operatic recitative.
Read more on how the spot was created on Adweek. Full credits are here.
Wednesday, November 26, 2014
Congratulations to Molly Willows on reaching 97% of her Indiegogo goal to fund her short documentary film Before the Wave.
Before the Wave is a poetic doc featuring Moken sea gypsies of the Andaman Sea, who are sea-faring nomads off the coast of Burma and Thailand. The community is one of the smallest indigenous groups in all of Asia, they are stateless, and since the 2004 Tsunami their lives have forever changed. With the advent of emergency disaster relief and NGOs unaware of to their ancient ways, pressures from the outside world have caused their numbers to rapidly decrease. Each year, hundreds of Moken sea gypsies perish from lack of fish in the sea, die from working on large dangerous fishing boats, or are forced to give up their old way of life for the big cities of Asia. This film will communicate both the astounding beauty of the Moken's one-of-a-kind aqua-culture, as well as the transforming reality of their present-day history.
I'm looking forward to seeing it when it's completed. You can donate and read more here and Happy Birthday Molly!
Tuesday, November 25, 2014
Toronto-based Smith made a super fun vid from their launch party this past Thursday night – it's part "photo booth" and part art installation. The Toronto ad scene was out in full force, drinking lots of premium liquor (LOTS).  I was there. It was super fun & there were these amazing sub sandwiches passed around at midnight. Sub sandwiches are only good at midnight when you are drinking, right?
There's a "making of" vid below. Read more about Smith here.
Friday, November 21, 2014
PlayStation and
BBH New York
have taken the victory dance to an entire new level with they new campaign that features the New York City Ballet.
Skunk's Jonathan Augustavo directed the six spots that are edited by Arcade Edits's Nick Rondeau. The campaign encourages gamers to share their own victory dances on Instagram using the hashtag #PS4dancecontest for a chance to win a PS4 for themselves and one for a friend.
Wednesday, November 19, 2014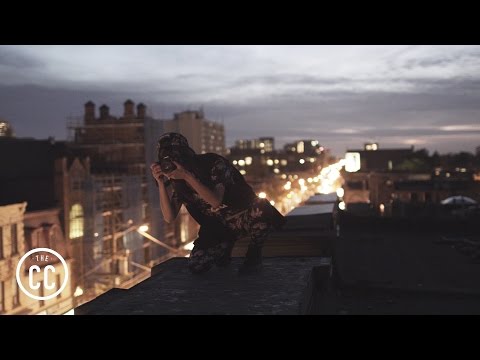 For Creators, By Creators – Toronto-based FREE launches a Millennial-powered digital channel "The Creator Class" in progressive studio partnership with Canon Canada.
"The Creator Class" is a creativity lifestyle channel for those who share their passions for a living. Anchored on YouTube and Instagram, the slate of social programming shares the lives, ambitions, and craft of leading content creatives in Music, Style, Adventure, Arts, and Culture. True to the channel's collaborative premise, all programming is produced by FREE's community of leading social storytellers.
Monday, November 17, 2014

In case you missed getting a tour of Smith's new offices last week, here's the best of the Sadie Cam – a French Bulldog named Sadie "armed" with a GoPro that gives office tours.
Get the full scoop on Smith here.
Friday, November 14, 2014
Toronto-based art director Gira Moin has launched cherché la femme, a series limited-edition, typographic letter posters printed on a heavy stock, with a rich, matte finish. They are lovely, no?
I'd love a "S"…but it seems she's sold it.
Friday, November 14, 2014
3MillionDogs.com™ has launched the first aggregator of dog deals online: GoodDogDeals. What Kayak® did for travel, GoodDogDeals™ does for Dogs.
3MillionDogs.com (formerly Dogbook), one of the fastest growing websites for dogs, announced the launch of GoodDogDeals. With over 100,000 products from leading online retailers like PetFlow, Wag, PetCo, PetSmart and many others, the site gives users the ability to shop and compare prices on food, toys, accessories and medicine all in one place.
And not only will GoodDogDeals be a one stop shop for all things dog, but it will also be a great place to give back to dogs in need with 5% of profits going to deserving shelters. It's all part of 3MillionDogs efforts to "Make the World a Better Place for Dogs."
3MillionDogs.com, was launched by Geoffrey Roche, founder of Lowe Roche, and his son Alexandre.
Tuesday, November 11, 2014

Toronto-based Crush, Notch, AXYZ and Lollipop have come together, combining their creative skill and craftsmanship to forge a new identity.
Meet Smith, a shop that proves that four core competencies are better than one, comprising AXYZ's VFX and animation wizardry, Notch's colour grading artistry, Crush's wide-ranging creative exploration and Lollipop's diverse digital capabilities.
Smith has a huge range of talent ranging from some of the top people in the industry to a wide variety of up and coming artists and producers. Smith's a production/post/digital shop that's better, faster, stronger and more relevant to today's industry. View their montage reel above.
Want to get a look inside Smith? Well, tune into the SadieCam (a French Bulldog armed with a GoPro) tomorrow from 12pm-2pm (Eastern). Sadie will be giving virtual visitors a look at Smith and its talented team of Smithites.
Friday, November 7, 2014
As a wide receiver for the Toronto Argonauts, Mike Bradwell isn't afraid of much – except heights. To support the Canadian Cancer Society's new signature fundraiser, the Fearless Challenge, Bradwell decided to pledge $2,500 to face his fear of heights by doing the CN Tower EdgeWalk.
Bradwell has met his fundraising goal and now you can see him face his fear of heights, at 116 stories above the ground, as he walks outside and around the circumference of the CN Tower's main pod. Watch the video above.
The Fearless Challenge was created by Toronto-based Lowe Roche.
« go back
—
keep looking »