Monday, January 18, 2016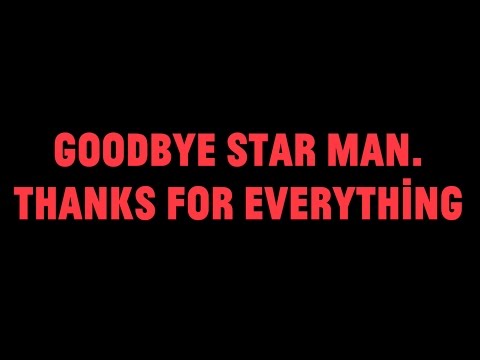 There have been so many wonderful tributes to David Bowie over the past week. MuchMusic actually played his music videos yesterday – I can't remember the last time I saw a music video on MuchMusic. I digress.
On Friday night Choir!Choir!Choir!, a Toronto-based community choir that anyone can join and who meets weekly, gathered at the Art Gallery of Ontario to pay tribute to David Bowie by singing an original arrangement of Space Oddity with 500+ singers. And it's such a wonderful tribute.
Choir!Choir!Choir! recently spread some happiness over the holidays in Toronto's Distillery District, at the Christmas Market, by singing an original arrangement of The Cure's Friday I'm in Love. That performance was sponsored by Koodo Mobile and Robert Smith, lead singer of The Cure, liked the arrangement so much that he donated his licensing fees to a charity of Choir!Choir!Choir! The money was donated to assist Syrian refugees who are immigrating to Canada.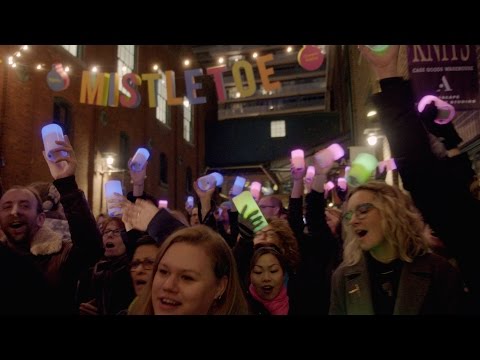 Monday, January 18, 2016

The Garden is pleased to announce that Dic Dickerson has joined the team as Managing Director.
Bringing over a decade of integrated leadership experience working on both agency and client-side, Dickerson provides Toronto-based creative company The Garden with a great range of category experience across a number of segments. His most notable work includes re-launching the Corona brand in Canada and overseeing multiple Canadian product launches for both Nissan and Audi. Most recently, Dic led SVEDKA towards their goal of becoming the number one imported vodka brand in the US, while simultaneously being recognized as the number two spirits brand on social media globally.
The addition of Dickerson is part of a period of significant growth for The Garden, which, after less than a year in business, has added several new clients, including IZ Fashion, WIRELESSWAVE, Tbooth Wireless, Standard Innovation, The United Way and the Detour Coffee Company. Dickerson has been busy since joining the agency, contributing to acquiring their newest client win, Shiny Apple Cider, as well as helping to lead a project for the Scene loyalty program.
Tuesday, January 12, 2016

Sam McLaren has joined Toronto-based Fort York VFX as Executive Producer.
McLaren is a creative executive producer with an eye for telling multi-faceted stories. She also knows the Canadian TV commercial industry inside and out. Prior to her move into the world of VFX, McLaren spent many years in the world of commercial editing and was an Executive Producer at Panic & Bob Editing. Over her 13 years at Panic & Bob she worked with a number of talented Canadian commercial editors on projects for brands including Ikea, Budweiser, Alexander Keiths, Ford, TD, CIBC and Canadian Tire.
Her commercial production work has won numerous awards, including a Gold Lion at Cannes for the Perlorian Brothers-directed "Prison Visitor" spot for VIM, and most recently a Silver Health Lion for Sick Kids' "Better Tomorrows," directed by Mark Zibert. She has collaborated on a great number of Super Bowl spots over the years out of DDB Chicago, many of which topped the USA Today Ad Meter poll, including BudLight's "Magic Fridge" and Joe Pytka's Budweiser commercials featuring the iconic Budweiser Clydesdales and Dalmatians.
McLaren's understanding of production and post lends itself well to her collaborative approach, which focuses on how to best meet the needs of the agency, production company and post production company.
Read more and see notable work from Fort York VFX.
Tuesday, January 12, 2016

Two of the country's most respected music companies are teaming up to form a new kind of music agency.
Portland and Los Angeles-based Walker and New York-based Able Baker are merging under the banner We Are Walker (in partnership with boutique audio post company Heard City), a new content and licensing agency that will drive innovation in content creation as well as licensing, original composition, supervision, music strategy, sound design and library services.
Collaborators and competitors for more than 10 years, Walker founder Sara Matarazzo and Able Baker founder Peter Gannon regularly license and create music for highly-regarded brands and filmmakers across feature films, television, commercials, mobile and digital platforms.
In addition to supervising and producing music for Nike, Google, Coca-Cola, Old Spice and director Noah Baumbach, Matarazzo's award-winning Walker has transformed relationships with top musicians and brands into unique projects including a holiday album for Target, a series of 7-inch records for Nike and a comic book with singer-songwriter Daniel Johnston. 
Monday, January 11, 2016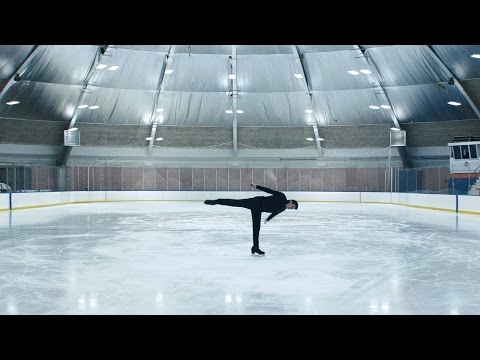 Here's some beautiful visually-driven work for Squarespace that aired during last night's Golden Globes.
Arcade Edit's Jeff Ferruzzo edited the spot, called "Manifesto", for Anomaly. It's directed by Derek Cianofrance of @Radical.Media.
Monday, January 11, 2016


It's a sad day indeed. We are so lucky to have had David Bowie here to inspire us and entertain us.
The gif above highlighting Bowie's changing styles over the years was created by Helen Green in 2015.
Tuesday, December 22, 2015

Back in the 1930s, a classic cola brand popularized Santa's look. What if other brands got there first?
For the holidays, kbs+ Toronto has rebranded Santa. With the help of gifted Canadian artist Sharif Tearaway, they have created a series of 12 Rockwell/Sundblom-style illustrations of the jolly ol man. Sharif, who looks a bit like Santa himself, is also the showcased in a short film to promote the project (posted below). The film is directed by Jon + Torey of OPC.
See more at BrandsOfSanta.com
Full credits.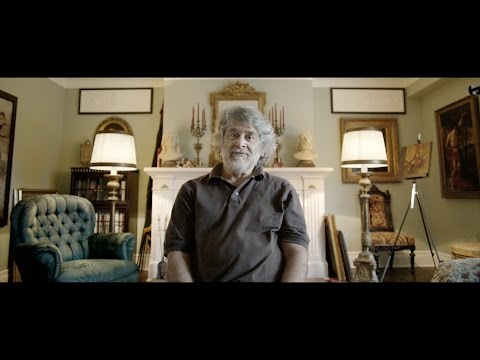 Sunday, December 20, 2015

I'm just going to leave this right here.
This amazing pretzel and candy corn Yule Log screensaver was created by PES in 2008. The DVD sold out quickly on their website (as it would), but you can still download it here.
Glossy is officially closed until 2016 (hurrah!), and we wish everyone the happiest of holidays and all the best for the New year.
Friday, December 18, 2015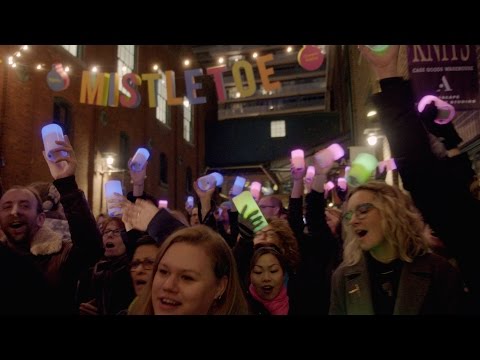 Happy Friday and Happy Holidays!
As the holidays are one of the craziest times of the year, Koodo wanted to spread a little happy. In what's being called a "Random Act of Happy," that builds upon Koodo's "Choose Happy" brand platform, the brand got 98 members of Choir!Choir!Choir! to perform The Cure's "Friday I'm in Love" at the Christmas Market in Toronto's historic Distillery District.
They also put up three word garlands with "FA LA LA LA LA (LA LA LA LA)", "WARM THOUGHTS PEOPLE" and everyone's favourite, "MISTLETOE" (see image below).
Robert Smith, the lead singer of The Cure, loved the arrangement so much that he's donating the licensing fees to the charity of the choir's choice — sponsoring Syrian families in need who are coming to Canada. How awesome is that?
Agency is Camp Jefferson.
Read more about the "Choose Happy" brand platform here.
Full credits.


Monday, December 7, 2015
The holidays, festive and joyous for most, can bring increased stress and fear to women in abusive relationships. According to numerous studies, domestic violence against women surges during the holiday season, sometimes by as much as 30 percent. One in four women are victims of domestic violence during their lives, says a UN study. And, countless innocent children bare witness to the abuse.
To help illuminate the horrifying realities of violence against women, FCB Toronto teamed with The Ontario Association of Interval & Transition Houses (OAITH), a provincial coalition founded by women's shelter advocates in 1977 and Yellow Brick House, an OAITH member shelter located in the York region area of North of Toronto that provides a safe place for women and children escaping domestic violence, have launched "The Window Project" to raise awareness and generate funds for women and families impacted in Canada.
"The Window Project," centers around a window display at the Untitled & Co store, 438 Queen Street West, in the Fashion District area of Toronto, that will illustrate the grim reality some families face during the holiday season in an elaborate holiday-themed window from Dec. 6-13.
At first glance, holiday shoppers will think they stumbled across a festive window. But upon closer inspection, the scene will depict one where a woman and her family are the victims of domestic violence. Viewers are empowered to stop the violence by making an SMS donation to OAITH. This action immediately stops the abuse in the scene for 60 seconds. By raising awareness, the program aims to bring an end to abuse for good.
« go back
—
keep looking »