Friday, June 27, 2014
Molson and Rethink have brought their award-winning beer fridge home to Canada for Canada Day – July 1.
The fridge will be in the nation's capital, Ottawa, on Canada Day and revellers will be able to open it by singing the Canadian National anthem. Despite some of the difficulty singers have in the promotional vid above, our anthem is pretty easy to belt out.
Happy Canada Day!
View the two other fridge films.
Tuesday, June 24, 2014
The 4th of July is just over a week away and Newcastle Brown has launched this hilarious campaign, featuring British funny man Stephen Merchant, to promote a new holiday – Independence Eve.
Called "If We Won?", the film imagines how great the USA could have been if Great Britain won the Revolutionary War. Ummmm….sounds a lot like Canada, minus the mushy peas and the lack of American self confidence.
Great stuff created by Droga5.
Tuesday, June 24, 2014
In his latest film for Greenpeace, director Olivier Agostini crafts a comedic story about what people can do to save the arctic. It's not for the faint of heart.
Although the film weaves a very humorous tale, the story it tells, as unlikely as it might seem, is actually based on real events. The narrative unfolds in the office of Gary Stephenson, a small business owner who is passionate about the environment, respects the work of Greenpeace and loves whale music…a lot. He recruits office assistant Dina, a woman a few years past her prime, to embark on a harrowing mission to save the Arctic. Everything Gary describes as he relates the details of the mission to Dina — the goal of which is to put a banner on the side of an oil rig — actually happened to the Arctic 30, a team of dedicated Greenpeace activists who set out to save Arctic from oil drilling. They were blasted by water cannons, even shot at, and eventually arrested and detained for 12 months in a Russian prison. Actual footage from the real event is shown at the end of the film.
The film was produced in conduction with production agency Future Camp in association with Brooklyn-based production company Greenpoint Pictures.
Monday, June 23, 2014
I wanted to give a shout-out to my friends at Rooster Post, with whom I had a lovely last night in Cannes with. We got take-out Vietnamese from Jade, which made me wonder why I had never gotten take-out Vietnamese from Jade before. Perhaps one of my best meals in Cannes, and the evening's company was perfect.
I'd also like to say congratulations to Rooster for having two of the projects they worked on awarded in Cannes – and of course congratulations to everyone who worked tirelessly to bring these projects to life.
Red Urban's documentary for Volkswagen, "Once More. The Story of VIN 903847″ (posted above), picked up two Lions – a Silver in Branded Content and a Bronze in Film. The documentary film was edited by Rooster's Paul Jutras and directed by Untitled Films' Hubert Davis.
Rethink's Molson Beer Fridge picked up a Bronze Cyber Lion. Rooster's Marc Langley was the editor on this project and the film was directed by Jonty Toosey of Partners Film.

Congratulations guys, lovely seeing you outside of Toronto, and let's do it again next year. I think a last night Jade dinner should become an annual thing.
Thursday, June 19, 2014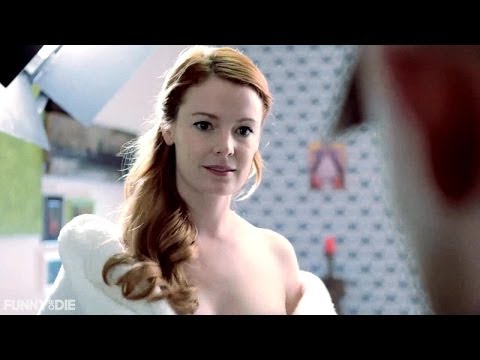 Today I attended my favourite part of the Cannes Lions – the Saatchi & Saatchi New Director's Showcase. 19 works were screened by 19 new directors, and I have to say I really enjoyed this year's showcase. I always enjoy it, but I found this year's work to be exceptional.
The showcase was also enhanced by the use of wearable tech – in the form of a wristband that monitored your reaction to the work being screening by the form of a flashing light. The colour spectrum of the light went from blue to red – calm to "aroused" – their word not mine. I stayed on blue or green most of the time, except for the one time I flashed bright red, but I have to admit, at that time I actually zoned out and daydreamed. I'm not telling you what I was thinking about, but everyone around me noticed I was flashing red and I got pretty embarrassed.
Above I've posted Alberto Belli's "It's Not Porn" – very funny and NSFW.
Below is Josh Cole's "Not Giving In" – a music video for Rudimental.
See more of my favourites here.
Friday, June 13, 2014
Clever. I love this spot. VISA's new World Cup spot features some of the world's most peaceful people, Nobel Peace Prize Laureates, getting all fired-up talking about their teams.
"United in Rivalry" features Oscar Arias (Costa Rica, 1987 winner), Leymah Gbowee (Liberia, 2011 winner), Sir Bob Geldof (Ireland, 2006 nominee), David Trimble (Northern Ireland, 1998 winner) and Lech Walesa (Poland, 1983 winner).
It was created by BBDO New York, directed by  Moxie Pictures' Errol Morris (director of The Fog of War and The Thin Blue Line) and it was edited by Kim Bica, Arcade Edit.
Friday, June 13, 2014
Working in advertising is pretty amazing. Not only do I get to be my own boss, but I'm also constantly in contact with creative and inspiring people and ideas. I love that this industry keeps me informed, young, energized, and makes me happy (most days).
And, it also allow for me to go to Cannes, France once a year to attend the Cannes Lions Festival of Creativity. I head out this weekend to attend and I'm looking forward to being in the palais to take in this year's amazing line-up. I'm also looking forward to French food and wine, and sun and sand. Yes, life is good.
View the festival trailer above and the full program here.
Thursday, June 12, 2014
Girls aren't just pretty, they are pretty brilliant.
In conjunction with MAKERS, a website dedicated to showing the stories of women, Verizon has launched "Inspire Her Mind."
The first spot. above and directed by Community Films' Pam Thomas, shows a girl in situations where she is either encouraged to be more girlie, or less like a boy.
The campaign is in line with Verizon's work to encourage children to become interested in science, technology, engineering and math (STEM) through the Verizon Foundation. Created by AKQA, the campaign was born out of research that shows there's a significant drop-off in women interested in these fields between childhood and adulthood.
Found via AdWeek. It's their Ad of the Day.
Thursday, June 12, 2014
The Canadian Cancer Society has chosen Lowe Roche to create their next big signature event launching in August.
After an exhaustive review involving forty of Canada's top agencies, Lowe Roche and IPG sister agencies Lowe Profero and UM have been tapped to develop a new fundraising solution to benefit the Canadian Cancer Society.
The assignment includes the delivery of a fully integrated signature fundraiser – including approach, strategy, creative, media, traditional advertising, digital marketing, and PR.
Tuesday, June 10, 2014

Here's another heartwarming spot for Cheerios – this one is out just in time for Father's Day to remind us how great Dads are.
My Dad once drove a cube van 5 hours for me, helped me move in all my stuff, and then he drove 5 hours home right after. My Dad's the best. Oh, and I was moving to intern – not even a real job!
"Night Drive" was created by Saatchi & Saatchi New York and directed by Community Films' Matt Smukler – the same people who brought you "Gracie" for Cheerios.
Nice work guys. Full credits.
« go back
—
keep looking »