Tuesday, May 31, 2016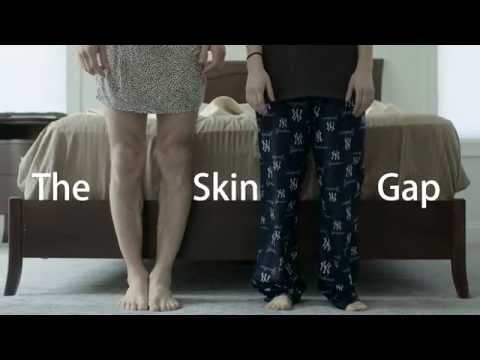 The Skin Gap – the difference in the amount of skin men and women are expected to show in the same social setting.
Gender equality is always top of mind, yet when it comes to getting dressed, women are expected to wear much less, and show much more skin, than men.
To raise awareness in this discrepancy of dress between the sexes, social media nonprofit Jew in the City has coined the term, The Skin Gap.
The video forces the viewer to see that from pajamas, to summer street wear, to formal wear, the amount of skin that is "normal" for young, thin girls and women to expose versus their male counterparts is highly inequitable. The Skin Gap begins in toddlerhood and only ends when a woman has exceeded a certain number in age or pounds and no longer fits the Western Beauty Standard. The video closes by asking the viewer: "Gender equality is demanded everywhere else. Why not here?"
"The Skin Gap" video aims not only to start a conversation around gender inequality in regards to fashion and dress, but also to raise awareness for Jew in the City and to hopefully make people have a second thought about Orthodox modes of modesty.
Thursday, May 19, 2016
The Salvation Army has launched a new awareness-raising exhibit and video series to help 1 in 10 Canadians living in poverty. Together with its Agency of Record, GREY Canada, the charity has created a new campaign entitled "Poverty Isn't Always Easy to See", an initiative aimed at showing people that their fellow Canadians struggle to make ends meet even with a roof over their heads. The campaign raises awareness to the fact that those in need aren't solely homeless and encourages donations outside of the holiday season. The online, out-of-home and print campaign aims to inspire donors to become monthly donors.
The campaign staged a real life "Open House" exhibit to show how poverty often remains hidden behind a seemingly fine exterior. From the outside, the home looked well kept. But inside, the public was faced with a different reality. Unknowingly, the public walked into a home representative of a family living in poverty. The open house provided an interactive, immersive experience with plaques and visual displays highlighting the struggles of over 300,000 Canadians living in poverty. The house featured hidden cameras to capture people's reactions to the displays. The entire experience can be found at salvationarmyopenhouse.com.
The campaign includes one long-format video, two 30-second online videos and a 360-degree virtual home tour where viewers can experience the open house digitally. The video ends with a call for donations, guiding donors to a redesigned Salvation Army donation page where users can take the 360 'open house' virtual home tour for themselves. In the first 24 hours, the campaign had over 300,000 organic views and shared 2,500+ times.
Read more and see more campaign elements.


Wednesday, May 11, 2016

Arts & Sciences is pleased to announce that director Brennan Stasiewicz has joined its roster for U.S. representation.
Stasiewicz is an extremely filmic, visual storyteller and creative collaborator whose work walks the line between the dramatic and the humorous. His commercial work includes directing for clients such as American Airlines, Cadillac, Samsung, Jim Beam, Toyota and Lincoln.
Stasiewicz is also an accomplished filmmaker with a number of stylized short non-fiction and fiction films under his belt. His most recent film, the short documentary A Beholden Purpose, looks into the conceptual process of painter Brad Kunkle, who mixes oil painting with gold and silver leaf to create images of women often in states of transcendence, while exploring the idea of purpose and female symbolism in our contemporary world.
Stasiewicz started his career as a promo writer for MTV where he learned the craft of filmmaking and started directing. From there he moved on to the world of commercials. He's directed actors including Will Ferrell, Paul Rudd, Jason Segel, Emma Stone and Jason Sudeikis, and musicians including Weezer, Kid Rock, Ne-Yo and Aesop Rock. Stasiewicz is based in New York and Stockholm.
Tuesday, May 10, 2016
Here's some new work from Toronto-based Bensimon Byrne (the agency that helped get Canada's new Prime Minister into office).
How do you get millennials interested in retirement saving? Not an easy feat. Frankly, no one really wants to hear from the government. so Benisimon Byrne came up with the idea of a generational exchange of wisdom. Retirees who understand the realities of retirement, were paired with YouTube celebrities, who could teach retirees a thing or two about pop culture. As they exchanged their wisdom, the bond between the generations grew.​
A retiree named Livingstone (above), a former cop who then helped his wife run a motel, was paired with Andrew, a YouTube video star. Andrew taught Livingstone how to create a music video, and Livingstone taught Andrew about retirement while making him his famous jerk chicken.
Kathy (below), an 80-year-old retiree and former assistant, was paired with Brent, Toronto's most popular radio personality from Indie 88. Kathy learned how to be a disc jockey while Brent learned there was much more to retirement than he thought.
The campaign is directed by Andrew Norton of Untitled Films.​

See the third spot in the campaign, read more and view full credits.


Friday, May 6, 2016
I dare you to watch this four minute short film and not cry.
"The Present," created by Jacob Frey and Markus Kranzler in 2014 as a graduation project while they were students at Filmakademie Baden-Wuerttemberg in Ludwigsburg, Germany, has been shown at over 180 film festivals and won more than 50 awards.
It also landed the pair jobs. Today, Frey works at Walt Disney Animation Studios and Kranzler at Pixar Animation Studios here in the Bay Area.
Enjoy.
Thursday, May 5, 2016

Subaru Inspires All to Get Out and See a Star-Filled Sky
Many people have never beheld the majesty of a starry sky, one of the most breathtaking sights in nature. An estimated 85% have only ever seen but a few of the brightest stars because of brightly lit urban areas. Subaru Canada intends to change that with a new social and digital campaign for the Subaru Outback that's giving people billions of reasons to get out at night and look up.
Developed in partnership with the Royal Astronomical Society of Canada, #SubaruDarkSky is an initiative that seeks to inspire Canadians' inner stargazer by sparking their desire and curiosity to see what's 'up there' — the billions of bright little lights that illuminate the vast expanse of sky above. #SubaruDarkSky will kick off this spring with a digital video depicting a family that heads out in their Subaru Outback to a remote location outside the city so they can gaze upon the grandeur of starry sky uninhibited by artificial light. The video, which will also appear in cinemas, will serve as launchpad for an ongoing, multichannel effort encouraging Canadians to head out out under starry skies across the country.
Following the launch of the video, #SubaruDarkSky will really kick into high gear on social media. The initiative will roll out across a number of social channels, including Subaru Canada's Facebook and Instagram channels, and will include content that seeks to inspire and enable astronomical curiosity.
#SubaruDarkSky also features a dedicated website at SubaruDarkSky.ca, which presents aspiring stargazers with information about the initiative, a brief history of constellations, the locations of Dark-Sky Preserves, stargazing tips and info on viewing meteor showers. The initiative will also be promoted by digital display ads, print ads in outdoor and lifestyle magazines, and a closed captioning sponsorship on television.
The campaign was created by Red Urban and the #SubaruDarkSky video was directed by John Mastromonaco of Untitled Films.
Monday, May 2, 2016

Bi-coastal music and sound house Squeak E Clean is pleased to announce that Stephanie Gocke has joined its Los Angeles office as Producer.
Gocke is a well-rounded producer with wide-ranging experience not only in music, but in many other facets of the advertising and creative industry. She joins the music shop from Psyop, where she was a VFX/animation producer. Prior to Psyop, she first launched into advertising at Media Arts Lab where she spent five years as a broadcast producer, working on campaigns such as "iPad Is," iPhone "Every Day," and Apple "Intention."
Gocke began her career at boutique public relations agency Media Tonic Communications, developing media strategy for entertainment and lifestyle brands such as Disney, FOX, and Toyota. Her first taste of the music industry came from time spent at musician management company Three Artist Management, which fielded clients such as Henry Rollins, Grandaddy, and The Crystal Method.
Wednesday, April 27, 2016
After Tuesday's US primary & caucus vote, many people may now be looking for a way out come November.
With a huge delegate lead in the race for the Republican presidential nomination, the increasing possibility of a Trump presidency has many people concerned and even thinking of packing-up and leaving the country for Canada. To make the prospect as painless as possible for people eager to avoid a potential Trump presidency, a new escape clause has been created: The Trump Clause.
The Trump Clause is a series of free, safeguard legal clauses that people can use in their personal, professional and business affairs to protect themselves in the event Trump wins the White House.
The Trump Clause is made up of 10 different clauses, each created and chosen based on data analytics of the most popular and relevant conversations currently being discussed in social media.
There's a clause for people who are taking a new job in the U.S. and want their expenses covered both ways if they quit. There's another for people who are buying a new house in the U.S. and want the seller to pay them back half the forthcoming depreciation amount. There's even one to get you out of a long-distance relationship with someone living in the U.S.
Visit trumpclause.com and follow them on Twitter @TrumpClause

Read more.
Wednesday, April 27, 2016

Life's a little more fun when you don't know what's around the corner. Niagara Fallsview Casino Resort delivers excitement you can bet on with their latest TV campaign.
The latest chapter in Fallsivew's ongoing story builds on the same level of fun and humour that consumers have come to know and love. The campaign includes four 30-second TV spots that illustrate the characteristic entertainment of Fallsview. The campaign is created by Toronto-based agency Blammo and directed by Adam & Dave of Holiday Films.
In grand cinematic fashion, the first on-air piece entitled "Goodbye" features a rain-soaked romantic hero calling up to a woman's apartment in a Romeo and Juliet fashion. He couldn't leave without saying goodbye. As she comes to the window, expecting him to bid her farewell, the unexpected happens – viewers are surprised to discover he is there to say goodbye to her brother, with whom he had an awesome time at Fallsview. Stay tuned for three more ads from Fallsview that depict life's little surprises, which are to be released throughout the year.
View Fallsview Casino Resort's  New "Goodbye" TV Spot
"Our TV campaign is the next instalment of the longstanding signature Fallsview humour that has successfully appealed to our loyal customers for over a decade", says Greg Medulun, Director of Communications. 'We often hear about how much our patrons look forward to being surprised with new innovative creative each year."
Tuesday, April 26, 2016
Knorr says that flavour is the secret to love. Seems like a good theory, seeing as good food can be the way to winning anyone's heart.
The brand, via MullenLowe, cleverly hired "First Kiss" director Tatia Pilieva to create this ad. Like "First Kiss," it's fun and awkward to watch. Cool fact – one of the couples in the spot actually became a real couple. They are not saying which one, my money is on the Mia (the blonde) and ginger beard guy – or maybe it's the finger sucker couple, Antonio & Irma. Anyway, the brand says they are considering a follow-up campaign with the matched couple. Scooped from Campaign mag where there's more info.
There's also a behind the scenes (below), if you are a sucker for love & want more.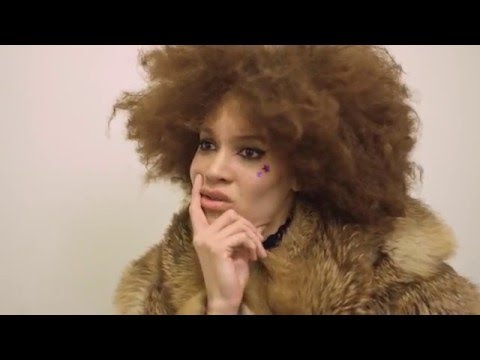 « go back
—
keep looking »