Wednesday, November 20, 2013
Until today, I had never heard of the late great Barry Bremen – who was equal parts P.T. Barnum, Walter Mitty, and Paper Lion-era George Plimpton.
From 1979 to 1986, Bremen, a Detroit-area salesman, became known in the sports world as The Great Imposter. He posed as a player in the Major Leagues and NBA, PGA golfer, NFL and NHL referee, and even Dallas Cowboys cheerleader.
If you have 9 minutes to spare, watch this wonderful short film, part of ESPN's 30 for 30 Shorts, on the life and antics of Bremen. It's directed by Matt Dilmore and edited by Greg Scruton, Arcade Edit.
Wednesday, November 20, 2013
Here's some nice work from Taxi Toronto for Boston Pizza – FestiveFakery.com discourages bad gift-giving for gift cards instead. Yep, there is nothing more awkward than watching a good person pretend to like a bad gift. The site has some solid advice and is beautifully crafted out of felt.
Scooped from Taxi CD Niall Kelly on Facebook.
Tuesday, November 19, 2013

I love this spot Tullamore Dew spot. It's beautifully shot – I love the bit where he adds rainwater to his drink via the rim of his hat. And there's a nice little twist.
Created by NYC's Opperman Weiss and directed by RSA's Laurence Dunmore.
All of the YouTube links to it have been disabled (annoying). But you can watch it on FastCompany's Co.Create where there's also more info.
Monday, November 18, 2013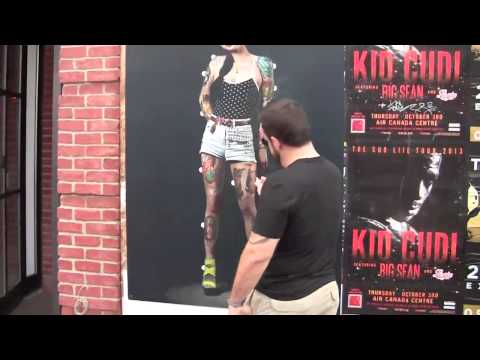 Removing a tattoo is hard. So to show people how easy it could be, MacLaren McCann created life-size outdoor posters with peel-off tattoos that revealed a coupon for laser removal on the back.
Friday, November 15, 2013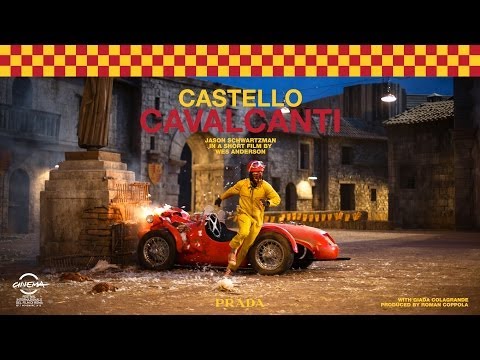 I did not have 7 minutes to spare yesterday to watch this. So happy to have had them this AM.
This short film for Prada, written and directed by Wes Anderson via The Directors Bureau and Hi! Productions, is delightful. As are all things Anderson.
Lovely.
Thursday, November 14, 2013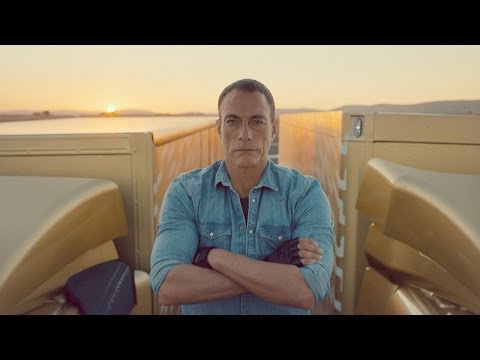 You've probably seen this already today – but I have to post it because it's awesome.
I was impressed that I got out of bed at 6:30 this AM for the gym, and here JCVD goes & does this. Making me feel all inadequate and stuff. Nicely done Volvo.
This new ad in one is a series of stunts by the automotive company via Forsman & Bodenfors. They've also done the ballerina tightrope walking stunt and the bull run.
Thursday, November 14, 2013
I love me some robots, an elitist marionette, a hungry tortoise and especially some screaming at a ginger wedding (that last one is my fav).
When it comes to cereal, people love crunch. This is the inspiration behind Oatmeal Crisp's new campaign, "Competition Crunch", via Cossette, Toronto. The online campaign features four videos, directed by OPC FS's Sean Wainsteim and Jono Hunter, that communicate just how crunchy Oatmeal Crisp really is.
My two favourite spots are posted here. Visit the campaign website to view all the work. Full credits.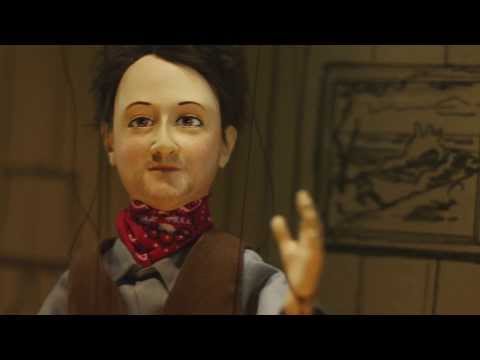 Wednesday, November 13, 2013
Next Wednesday night, November 20th, The Advertising & Design Club of Canada is hosting a night with hybrid production company B-Reel. Co-founders, Pelle Nilson and Petter Westlund will talk about creativity, ideas and how their unique Swedish perspective has made them one of the most well regarded creative companies today. Get more info here.
Tickets are cheap & you can get them here.
Wednesday, November 13, 2013

Last night the lovely Jamie Madge and Attilio Gianfrancesco were in Toronto from SourceEcreative's UK office and put on an amazing showcase called "Presents".
They presented some great work from both signed and unsigned directorial talent. Here's two great spots that I had never seen before.
Above is "Picture Locking", directed by Nathan Boey (unsigned). And below is Omelette, directed by Madeline Sharahan (unsigned). Great stuff. Thanks for a fun night and lots of drinks guys!
Tuesday, November 12, 2013
How can you not love this? In Red Urban's latest for Pet Trust, Dogs and cats fight cancer – with a song. Check out the homepage on pettrust.ca, there are dogs manning the phones, waiting for your calls. Super cute.
While animal cancer is an increasingly prevalent disease amongst dogs and cats, it is a frequently overlooked cause. In fact, although 1 in 4 dogs and 1 in 8 cats currently die from cancer, the awareness of pet cancer is extremely low. Until now, that is. Pet Trust, Canada's first charitable fund dedicated to cancer cure and prevention in dogs and cats, is raising awareness, and donations, with a "We Are the World"-style song and video featuring an entirely canine cast. And one cat.
The video is directed by Untitled Films' Curtis Wehrfritz.
Read more.
« go back
—
keep looking »