Friday, December 12, 2014
We are on day 36 of an incredibly intimate and emotional 45 day campaign for SickKids by JWT Toronto. The campaign aims to pull back the curtain by inviting audiences to witness 45 daily commercials that show what's going on at the hospital right this minute. The campaign, called "Better Tomorrows," is centred on the tagline "Make their tomorrow as good as your today."
The 30-second commercials are directed by Sons & Daughters' Mark Zibert, Michelle Czukar at Panic & Bob edited, and are set to the song "Fix You" by British band, Coldplay, chosen to represent the hope SickKids families have that their children will get better. Patients featured in the commercials are between four-days and 18-years-old with conditions ranging from cystic fibrosis to various childhood cancers to organ transplants. Many of these young patients are in active treatment and mustered all of their energy and courage to participate in the campaign to inspire the community to support SickKids this holiday season.
Watch all the spots on SickKids' YouTube channel.
More spots and full credits are here.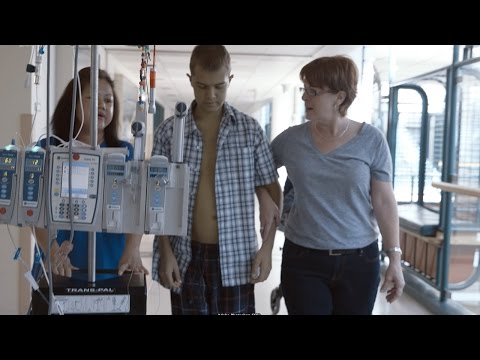 Thursday, December 11, 2014
I often joke – "is it a puppy!?" – when opening Christmas presents. I usually do it with very small boxes. Boxes so small that there's no way it's a puppy. Also, I'm highly allergic to dogs – even the hypoallergenic ones. So, you can get the humour.
But pets for Christmas is no laughing matter. Over the holidays animal shelters get filled to capacity with unwanted pets. To bring awareness to this issue, 3MillionDogs.com, the site and companion app whose miission is to make the world a better place for dogs, offers visitors a timely message in a current post and companion video: Think Before You Give a Dog a Home for Christmas.
3MillionDogs is headed up by Geoffrey Roche and his son Alexandre. Geoffrey is the founder of Toronto's Lowe Roche.
Tuesday, December 9, 2014
Nice. Toronto-based School Editing has released its holiday video, and it has NO EDITS!
Super fun. Happy Holidays to you!
Tuesday, December 9, 2014
GREY Toronto continues to to create great, thought-proving work for Moms Demand Action for Gun Sense in America.
The latest, directed by Untitled Films' Phil Brown, depicts the new reality of a "lockdown" culture in American classrooms. It's been nearly two years since the tragedy at Sandy Hook Elementary School, and the spot was released today along with a report documenting the almost 100 school shootings since Newtown.
Tuesday, December 9, 2014

Here's the latest from The Juggernaut – you know, they did the Advertising Against Humanity cards last week.
Ketel One Vodka's original copper pot still, "Distilleerketel No. 1," is the Dutch distillery's namesake but it's also the heart and soul of a family-run business that's been in continuous operation for over three centuries. So when Diageo approached The Juggernaut about producing a standout spot for their top-selling vodka, they knew right away that Distilleerketel No. 1 would be key to bringing the brand's story to life.
Much of that story is right there on the bottle: family owned and operated for over ten generations, Ketel One vodka is crafted from small batches in the picturesque city of Schiedam, Holland. The Juggernaunt wanted to showcase Ketel One's historic roots but also emphasize its modern approach to its craft (the distillery was founded in 1691 but didn't start making vodka until 1983) something they did narratively but also stylistically, by combining drones, lasers and letterpress with classic and 3D animation.
Monday, December 8, 2014
The folks over at Common Good have made this slick and sexy vid for Majid Jordan's latest, called "Her." They've also been creating some great contact for him on Instagram too – watch a reel of all the clips they've done below.
Nice work guys!
Monday, December 8, 2014
The song "Paper Planes" has taken off and it's all thanks to Vapor Music and Walmart's Holiday campaign.
Developed by Toronto's Vapor Music, and performed by local artists East of Avenue, the track was created for the retailer's 2014 holiday TV campaign (see below), which features friends and family coming together to celebrate the festive season.
Right off the bat, "Paper Planes" really resonated with TV viewers. They found the tune to be so catchy that Walmart was flooded by calls from fans wondering about the artist behind the song and where they could find the full length track. That led to Vapor music working with East of Avenue to extrapolate "Paper Planes" and make it available in its entirety on both iTunes and Spotify. The song has turned out to be something of a holiday phenomenon. It's already been downloaded over 1600 times in just a few short weeks, and is currently sitting at the number five spot on the singer/songwriter chart on iTunes Canada. A "Paper Planes" music video has also been completed and just launched on YouTube (posted above).
Friday, December 5, 2014
As soon as I saw these pop up on my Facebook newsfeed I had to get a pack. And I had to get the lovely guys at Toronto-based The Juggernaut, who created them, some ad PR love. So I offered up a trade – PR for cards.
My 2 packs arrived just after I got this story in Adweek. Good trade, no?
The Juggernaut is a Toronto-based animation, design and visual effects studio – you can see their montage reel below. They created 500 packs of these cards for client gifts, sadly they are not for sale. They are making 500 more though, so maybe if you email them and ask nicely, they'll send you a pack. It seems they are up for bartering too. The copy for the cards was written by Lyranda Martin-Evans and Travis Cowdy, who work at KBS+P Toronto.
Thursday, December 4, 2014
Indie creative studios Analog and Artjail forge transatlantic VFX alliance
London-based Analog and New York-based Artjail have teamed up to offer brands and creative agencies each other's specialized live-action VFX, 3D animation and finishing services. The alliance will make Artjail's Artists, who specialize in high-end compositing, CG work and finishing for live action, available to Analog's British clients; and Analog's photo-realistic 3D visual effects services available to Artjail's clients in the U.S. market.
Both companies specialize in creating arresting visuals to help tell stories for major brands. Working together, the creative studios will now have greater bandwidth, push each other creatively and technically, and have an expanded brand presence.
Monday, December 1, 2014

Community Films is pleased to announce the addition of director Clay Williams to its roster for U.S. representation.
Williams has a wicked sense of humor and a keen eye for visuals, both of which permeate his directorial style. Over the years, both directing and working agency-side, Williams' talents have helped him to create some standout, even iconic ads and campaigns for many top tier brands. His agency experience includes work on projects for Norwegian Cruise Lines, Nissan and Energizer, and Taco Bell. His current directorial commercial reel boasts work for many other big brands, including First Bank, Burger King, Purolator, HBO and Ikea.
View Clay Williams' reel. Read more.
keep looking »