Short Film
Posted January 26, 2016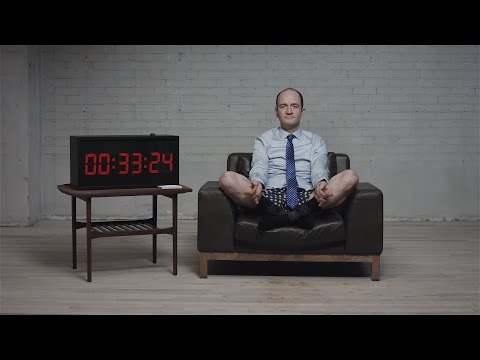 What would you do in 3 hours and 20 minutes?
EnOcean shows how to save 3 hours and 20 minutes, in a 3-hr, 20-minute film.
To launch EnOcean's self-harvesting technology that allows various switches and sensors to work without wires or batteries, and hence save you about 3 hours and 20 minutes of installation time, Alfred, a Montreal-based communication agency, has just launched an on-line ad that lasts 3 hours and 20 minutes.
EnOcean switches can be installed in less than ten minutes, as opposed to traditional switches, which can take 3 hours and 20 minutes (since you have to open up walls, run wires, install the switch, fix the hole, repaint, etc).
To communicate the idea of the time saved, Alfred created a "Slow Ad": an uninterrupted, 3-hour and 20-minute shot featuring a character who must kill… 3 hours and 20 minutes in front of the camera. An assistant, a few props, and an EnOcean switch were part of the endeavour. Some of the activities in the film include: dropping coffee, taking pants off to get the cleaned, playing Go Fish, blowing bubbles, peeing in a bucket, accepting a call from mom, ordering pizza, eating pizza, taking a nap, and building a tower of champagne glasses.
Posted December 18, 2015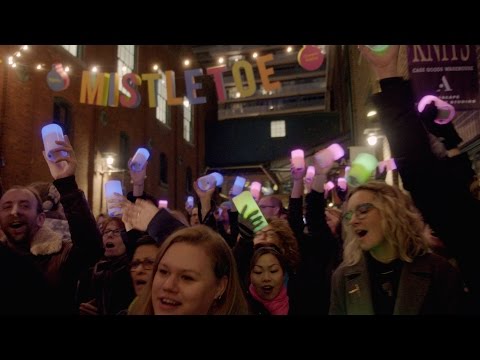 Happy Friday and Happy Holidays!
As the holidays are one of the craziest times of the year, Koodo wanted to spread a little happy. In what's being called a "Random Act of Happy," that builds upon Koodo's "Choose Happy" brand platform, the brand got 98 members of Choir!Choir!Choir! to perform The Cure's "Friday I'm in Love" at the Christmas Market in Toronto's historic Distillery District.
They also put up three word garlands with "FA LA LA LA LA (LA LA LA LA)", "WARM THOUGHTS PEOPLE" and everyone's favourite, "MISTLETOE" (see image below).
Robert Smith, the lead singer of The Cure, loved the arrangement so much that he's donating the licensing fees to the charity of the choir's choice — sponsoring Syrian families in need who are coming to Canada. How awesome is that?
Agency is Camp Jefferson.
Read more about the "Choose Happy" brand platform here.
Full credits.


Posted November 24, 2015
Yep, here's another Christmas tear-jerker. This time from Spain and created by Leo Burnett Iberia (Madrid) and beautifully animated and directed by againstallodds of Passion Pictures.
This sweet 3-minute film follows Justino, the nightshift worker at a mannequin factory as he spends the nights alone but is able to bring joy to the daytime staff with some office mannequin antics. And who doesn't love mannequin antics?!
This spot is part of an annual tradition in Spain. Since 1812, the Christmas lottery is more of a group affair than other lotteries, as it's traditional for people to share the winnings by buying shared tickets with colleagues, friends and family.
They have also set up an Instagram account for Justino, in case this film just isn't enough. I'm following him.
Enjoy.
Posted November 6, 2015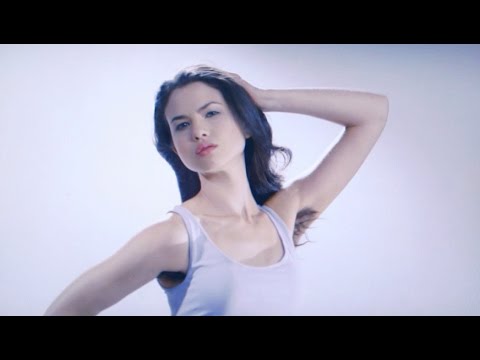 Thank you john st. for calling out all things terrible about "femvertising." Every time I see one of these adds calling out women's insecurities, feel bad for being so well-adjusted. Ok, I don't feel bad, but I'm happy to be so well-adjusted that I think these ads are BS and encourage insecurity.
This video, called "jane st." and created for Strategy magazine's Agency of the Year awards, is one in a series of great spots the Toronto-based shop has created annually for the awards show – past greats include Pink Ponies, Catvertising, Buyral, and ExFEARiential.
Posted November 2, 2015
A little bit of gratitude goes a long way in this second instalment of "Gentleman's Wager" for Johnnie Walker Blue label, created by Anomaly and directed by Jake Scott of RSA.
The film reunites Jude Law and Giancarlo Giannini, this time over a wager for a vintage car and a race to Monaco. The films also features actress Zhao Wei and Formula 1 heroes Mika Häkkinen and Jenson Button appear in cameos. I think I like this one better than the first (posted below). Yep, I do. Take 11 mins out of your Monday to watch it.
Posted October 30, 2015


You can't have Halloween without a horror film, or 2. This one stars five very unlucky garden snails who find themselves in a kitchen of terror.
"Escargore" is an entertaining mix of comedy and animated-gore and is the latest short from Auckland-based Media Design School's 3D Animation and VFX program. The short film, which is a mix of live-action and CGI, was completed in four months by a group of 22 students. Kudos to director Oliver Hilbert and the team. Nicely done.
There's a behind the scenes vid too. Posted below.

Posted October 25, 2015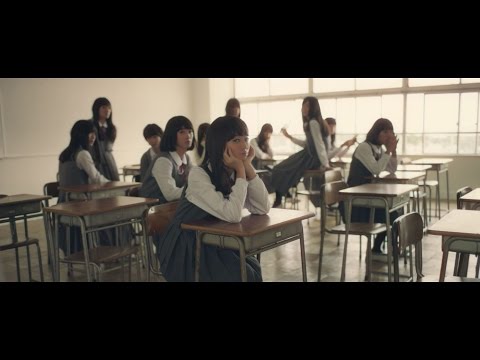 I have seen this ad going around since last week, but I have not watched it until now because I thought it would be just another beauty ad. It's not.
It's a beauty ad worth watching. Thanks to Eliza Williams at Creative Review for putting it on my radar. I knew if she liked it, it had to be good.
No credits have been posted yet, but Creative Review believes that it was created in-house by Shiseido in Japan.
Posted October 22, 2015
This is funny stuff.
In the latest Exclusively for Everybody campaign for SMIRNOFF®, actors and comedians, T.J. Miller and Thomas Middleditch (HBO's Silicon Valley), journeyed an epic 3,098-miles from Los Angeles to New York Comic Con in "The Road Trip" to pitch a film idea starring superheroes that aren't cut from the same Hollywood cloth.
Documenting the adventure, the SMIRNOFF® brand, in partnership with 72andSunny and Arts & Sciences director Matt Lenski, created a series of six broadcast and online films for "The Road Trip," sharing how T.J. and Thomas learned about the quality of SMIRNOFF® vodka during stops along the way at a comedy club, farm-to-table restaurant, house party, and, finally, in a safe carpool ride.
Posted October 19, 2015
The HBC History Foundation is enlisting Man in Motion hero Rick Hansen to celebrate the explorer and surveyor David Thompson in its second Country of Adventurers history segment.
Thompson became one of the most pioneering geographers in Canada. No matter where he traveled, he would mark down the latitude and longitude, temperature and geographical characteristics. Ultimately, he mapped almost half of North America between the 46th and 60th parallels, from the St. Lawrence and Great Lakes all the way to the Pacific. His work was so accurate that it remained the basis of all maps of the west for almost a century.
The HBC History Foundation created The Country of Adventurers series of historical narratives to share the stories of Canada's adventurous past. The campaign was created by Toronto-based Red Urban, directed by Untitled Films' David Tennant, and edited by Mark Paiva at Saints Editorial. Special Effects were handled by Alter Ego, Toronto.
Posted October 6, 2015

Um, well this is amazing.
French director, animator and food artist Alexandre Dubosc has created this fantastic zoetrope cake called Melting POP. So much fun.
keep looking »